A good number of runners or athletes with wide feet find the most popular running shoes uncomfortable. To these runners, best running shoes with wide toe box and narrow heels are essential.
These running shoes are not only comfortable but also help these runners to achieve their daily goals. However, the challenge is finding shoes that allow toes to splay naturally.
The shoes protect people with wide toes from the pain of experiencing blisters, chafing, and other problems caused by too-tight shoes.
To ease your work, we did our due market research and compiled for you a list of ideal running shoes for wide toe box and narrow heel.
Read through the reviews and get yourself the one that best suits your needs.
But first,
What is the Importance of Shoes with Wide Toe Box and Narrow Heel?
Do you have wide toes or feet? It is critical that you go for running shoes that suit your feet size. Here are three main reasons:
Best Performance: These running shoes will help you to perform at your optimal without feeling any discomfort. Whether you are training or doing your workouts, you will be able to give your best.
Maximum Comfort: These running shoes have a wide-toes box. As such, they offer you ultimate comfort during your workouts or training.
Prevent Feet Problems: best Running shoes with wide toe box and narrow heel will keep your feet from issues such as arthritis, bunions, and plantar fasciitis.
Causes of Wide Feet
Any of the following can cause wide forefoot or feet:
·        Genetics: To some people, they are born with wide feet. Those who have flat feet are also prone to having wider feet.
·        Foot deformities: Some deformities such as calluses, bunions, or hammer toes can cause your feet to become wider. According to MedlinePlus, a third of USA adults suffer from bunions.
·        Age: Ligaments and tendons tend to loosen up as one gets older. As such, your feet also grows wider and longer.
·        Pregnancy: Relaxin, a pregnancy hormone, can cause joints and ligaments to loosen around the feet. This hormone is the reason behind women developing wide feet, especially during their second and third trimesters.
·        Wrong footwear: Running shoes that are not a perfect fit can cause foot deformities. This is among the common causes of wider feet. Research shows that between 63-72 percent of people wear improper fitting shoes.
·        Swelling: The medical terminology for swelling feet is Edema. This condition can cause a temporary widening of your feet.
The following table shows some of the conditions associated with tight running shoes.
| | |
| --- | --- |
| CONDITION | A BRIEF EXPLANATION OF WHAT IT IS |
| Bunions | The bone or tissue around the joint at the base of your big toe enlarges |
| Calluses | A thick and hard skin that results from continued friction on the skin due to tight shoes |
| Crossover toe | A condition that involves your toes crossing over each other after they are squeezed too tight inside the shoe |
| Hammer toe | A condition that causes your toe to carl up rather than lie flat |
7 Key Features for Running Shoes with Wide Toe Box and Narrow Heel
Breathability: The running shoes are breathable to allow air to flow into them freely. The free air circulation ensures that your toes do not feel hot or cooked up.
GreatArch Support: The best running shoes provide arch support, which is essential in improving the stability and comfort of the runner or wearer.
Availability of different sizes: These shoes are made with wide feet people in mind. As such, they come in various large sizes.
Great cushioning: The shoes come with an extra depth toe-box. This feature ensures your feet can move without any restrictions.
Highly Durable: Because of the nature of their usage, these shoes should be of superior materials that are highly durable.
Wide Toe Box: The shoes feature a wide toe box. This feature ensures that your feet can move without any restrictions.
Removable Insoles: Most of the shoes under this category feature removable insoles. As such, you can replace the original sole with one of your likings if you so desire.
Tips for Choosing Running Shoes with Wide Toe Box and Narrow Heel
Get a Professional to Fit Your Foot
At your local running shoe store, you can inquire about fitting.
In most stores, you will find a podiatrist or a shoe department salesperson who can measure your foot. Moreover, the podiatrist will watch you run and do a comprehensive gait analysis.
These tests are essential in determining the right kind of shoe for you. They will help you get the most appropriate shoe that will be comfortable and appropriate for use.
Consider Shoes that are Slightly Bigger than Your Normal Size
When looking for the best running shoes, it is advisable always to size up. Always go for a shoe that is half-size larger than your ordinary shoe size.
Moreover, ensure you have your running socks on when measuring to check whether the shoe is the right size.
Consider the Toe Box Dynamics
If you are among the people with wide forefoot, consider shoes that have a wider toe box. The same is also true if you suffer from hammer toes or metatarsalgia.
However, keep in mind that a big toe box does not necessarily translate into wide feet in the mid-foot or heel.
If you are looking for a shoe that has enough room, look for those that are marked wide, 2E, 4E or wider.
Consider the Function of the Shoe
Ensure you get a shoe that is designed for the specific purpose for which you would like to use it.
Shoes are for different terrains such a road-running, pavement, trail running, or marathon.
Each shoe will work best at its designed terrain. As such, carefully consider the terrain for better results with your shoes.
Have Your Orthotics as You Fit Your Shoes
Any orthotics that you slide into your shoes take up a good deal of space.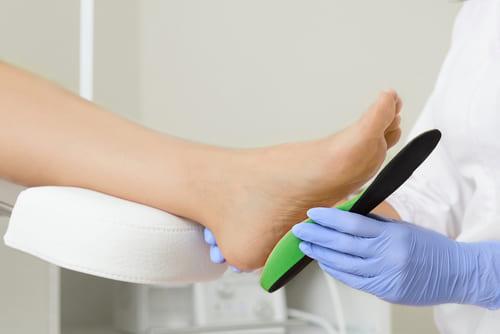 Some of the most common orthotics include:
·        Toe wraps
·        Toe splints
·        Toe separators
·        Products for hammer toes, among others
These orthotics will definitely influence the shoe size. Consequently, wear them when fitting your shoes.
Review of the Best Running Shoes with Wide Toe Box and Narrow Heel
Brooks Ghost 13 – Overall Winner
Brooks Ghost 13 are among the best shoes with a wide toe box and narrow heel. They feature an engineered mesh upper that has 3D Fit Print overlays. The shoes are highly breathable, allowing the airing of your feet throughout your running.
With Brooks Ghost 13 running shoe, you need not worry about foot lockdown. The shoes feature flat laces that ensure your foot is tightly held in position.
The Brooks shoe laces are also easy to tie up. As such, the shoe is also ideal for use during your morning runs.
Brooks Ghost 13 performs highly in terms of cushioning. They feature a neutral arch support type with a high energizing cushioning.
The underfoot and the midsole have the BioMoGo DNA LOFT that offers you just the right softness. The softness is essential in ensuring a safe landing during your running.
Still, on comfort, your ankle collar and heel receive sufficient cushioning. The cushioning is effective in protecting you from heel pain.
With all these, Brooks Ghost 13 does not lose responsiveness and durability. It a light shoe that is ideal for road running, cross–running, and even for use in the gym.
The other feature you will like about this Brooks shoe is the traction. The shoe has a high durability rubber outsole that offers great traction on the road.
The rubber sole is also highly flexible for natural foot movements.
Brooks Ghost 13 has a wide toe box that allows your toes to splay freely as you run. This ensures that you enjoy natural and comfortable running.
The Brooks Ghost 13 men's shoe comes in width ranging from narrow, normal, wide, and extra-wide. On the other hand, the Brooks women's shoe comes in width ranging from narrow, normal, wide, extra-wide, and XX wide. As such, the women's shoe can be used for even wider forefoot.
---
HOKA ONE ONE Clifton 7 – Best for Comfort
Expert review of the Hoka One One Clifton 7 shows that this is an incredibly breathable shoe.
The upper is highly comfortable, offers a structure as well as allows for foot flex.
The shoe tongue stays put in place. This ensures that there is no more round moving during a run.
The other feature that you will like is that this shoe rides very smoothly. Expert reviews show that the rocket of the shoe feels amazing.
The base of the shoe is also wide enough. As such, the shoe offers adequate stability and support.
Users have praised Clifton 7 for being a highly comfortable shoe. The shoe hugs your foot and offers you maximum comfort during your run.
However, user reviews also show that this may not be the softest Hoka shoe. The Hoka Bondi 7 feels more maximally cushioned and soft.
The Clifton 7 running shoe has also eliminated the old hook tab. It features an elf curl that goes up against the Achilles.
The curl is essential in that it makes entry easy and keeps chafing at bay. It also helps to offer Achilles support.
This is a plush daily trainer. Clifton 7 is more of a daily plush trainer but not for fast runs.  It lacks that great responsiveness that is needed for a running fast running shoe.
The men's and women's shoes also offer a perfect balance between lightweight and comfort. Unlike other wide-toe box shoes, Clifton 7 only weighs 247g.
What's more, this shoe is true to size and features a wide toe box and narrow heel.
---
ALTRA Provision 4 – Best Quality
Experts describe ALTRA Provision 4 as mild stability running shoe. It's highly cushioned and features a rubber sole.
Altra Provision 4 is suitable for mild pronators as well as neutral runners. The newly developed stability features of the shoe are meant to work only when the user needs them.
Both the men's and the women's shoes are excellent for achieving optimal balance while running. It features an ideal blend of arch support and comfort.
Altra Provision 4 fairs well as an everyday road running shoe. It effectively prevents overpronation through the Zero Drop platform and unique support features.
The shoe also features a dynamic arch feature known as an InnovArch. This technology makes use of proprioception to establish the link between mind, body, and feet. It, therefore, helps to facilitate natural foot placement.
The shoe also features Guide Rail technology. This technology adds to the stability of the shoe. However, this component only comes into use when the runner needs it.
The lacing system of the shoe gives it a secure and customized in-shoe feel.
Altra Provision 4 also features a wide toe box and narrow heels that allow your toes to move and spread out naturally.
The women's version of this shoe comes in a different shape from that of its men counterpart. The
different shape in the women's shoe is due to the Fit4Her technology that accommodates the natural shape of the female's foot.
The outsole features a FootPod technology that maps the tendons and bones on your foot. This allows your foot to move and bend naturally.
The technology greatly enhances the men's and women's shoes' flexibility.
The zero Drop platform of the shoe places the forefoot and heel at the same distance from the ground.
As such, you will experience low impact throughout your run.
The InnerFlex technology in the midsole makes it lighter for improved speed.
The shoe features an engineered mesh upper foam that is soft, lightweight, and breathable.
---
ALTRA Duo 1.5 – Best Bouncy Feel
The ALTRA Duo 1.5 is among the ideal running shoes with wide toe box and narrow heels. It's not much different from the prior Escalante 1.0. However, it does include a few tweaks to enhance its performance. The shoe is a minimalist model. It is therefore lightweight with a bouncy midsole and an excellent flat-knit upper.
Like the previous 1.0 version, the Altra 1.5 comes with ALTRA's Ego midsole for both the men's and women's shoes. It is not only thin and soft but also highly responsive. As such, the shoe achieves a bouncier, faster run with more energy return.
Altra Duo features a Zero Drop that places the forefoot and heel at the same distance from the ground.
The cushioning is moderate and can handle long runs such as marathons without much leg fatigue.
It then boasts a sleeker shoe cradle which facilitates more adept turning. And since it also brags a fast and light feel, the Escalante 1.5 will do well during speed workouts.
The shoe's outsole then features a footprint design which comes as grippy grooves. These deliver excellent traction on wet terrains and give the shoe a solid tread. Moreover, the outsole allows the Duo 1.5 to be highly flexible rather than being overly stiff. Its toe box is notable with ample space allowing your foot to spread freely.
The upper of the Duo 1.5 is nothing less impressive and looks too dense at first. Nonetheless, it stretches apart as you put it on, opening up some decent pores for ventilation.
However, some users complain that the heel collar is quite stiff.
---
ALTRA Torin 4 Plush – Best Protection
The Torin 4 Plush, like its name implies, features 2mm extra cushioning than the regular Torin 4. It has a wide toe box and narrow heel.
As a result, it is an ideal trainer for people willing to compromise some responsiveness for underfoot softness. With the extra cushioning, this trainer works best for slow, long miles and recovery runs.
The shoe then features the all-new responsive and lightweight Quantic midsole. And through this, it delivers excellent impact absorption even though it sacrifices some energy return.
Being a plush shoe, the midsole is thicker and hence more rigid for both the men's and women's shoes.
In between the insole and the midsole is an EVA Strobel layer. Besides providing a softer feel on landing, it also helps deliver a stable run.
Further, the Torin 4 Plush incorporates a more rounded, broad toe box, as you'd expect. It allows your feet to spread out and relax in the shoes, especially during long runs.
Unlike the regular version, the Torin 4 Plush comes with a cushier knit upper. The lacing is hence more secure for a better fit, and the upper comfort is perfect. However, the extra cushioning makes it less breathable and stretchable to boot. Its underfoot protection is also remarkable, thanks to its comfortable outsole.
---
New Balance 1080 V9 – Best Cushioning
The first notable feature of the New Balance 1080 V9 is the cushioning. Other than that, it retains a quick and responsive turnover making it perfect for speed-oriented runners. In addition, it boasts a low profile with an attractive and subtle design as well.
Unlike previous 1080 models, the V9 running shoe includes a top-tier Fresh Foam midsole. In addition, on the midsole's outside are more Laser Engravings which help soften the landing.
What's more impressive is how the V9's softer landing doesn't compromise its responsiveness like in other models.
The shoe's outsole is fantastic as it features blow rubber. This material increases the durability of the 1080 v9, with superior traction and low weight.
Like New Balance's trail shoes, this running shoe employs the hex-design outsole pattern. Other than offering an additional gripping surface, it also helps she snow and water pretty well.
The design also enhances the outsole's flexibility. And alongside its Flex Grooves, they enable the v9 trainer to roll better from heel to toe.
Similar to other New Balance shoes, this trainer displays an aggressive upturn at the toe. You'll, therefore, easily transition into your toe-off while upping your pace as well.
About the upper, the shoe uses Fantom Fit and an engineered mesh. The Fantom Fit includes two fabrics that help deliver support to your midfoot.
The mesh foam, on the other hand, is not only breathable but flexible to boot. Still on the upper, the toe box is roomy and broad. It also brags an excellent height allowing your toes to flex freely.
Both the men's and the women's shoes come in width ranging from narrow, normal, wide, and extra-wide.
---
Inov-8 Roadclaw 275 V2 Sneaker – Best Responsive
Inov-8 is reputable for making shoes with exceptional traction. The Roadclaw 275 V2 is not any different. Its features make it of the best men's running shoes with wide toe box and narrow heels.
This running shoe features a stripped-back mesh upper for both the men's and women's counterparts. The mesh facilitates ventilation with every step keeping your feet fresh and dry in humid and hot environments.
With such remarkable breathability, the Roadclaw 275 V2 running shoe is suitable for long runs.
User reviews show that the shoe also includes outstanding heel support and ample cushioning. Its tongue has extra padding for a soft feel without being overly bulky. There is also more padding on the heel cage, making it one very comfortable trainer right out of the box.
Besides the heel support, this running shoe is a neutral trainer ideal for people with neutral pronation. It delivers excellent responsiveness and incorporates a wide toe box. As such, it offers enough room to spread and flex your toes.
Inov-8 employs their popular grip tech on the blown rubber outsole of the Roadclaw 275 V2. It hence provides exceptional grip making it a standard go-to option for wet weather workouts and runs. In addition, it also uses Inov-8's Power flow + Midsole technology. Through this, the shoe attains better energy return alongside better shock absorption than standard midsoles.
---
Saucony Echelon 8 – Best Shock Absorption
The Saucony Echelon 8 Running Shoe brags a generous fit and ample cushioning. And for those reasons, it is a perfect trainer for people using orthotic inserts or who have flat feet.
As you'd expect, this shoe comes with a comprehensive and straight platform. This design allows the Echelon 8 to accommodate a wide array of arch heights and foot shapes.
Moreover, the low arch structure and linear platform design allow runners to use an insole or orthotic with ease.
Like most Saucony shoes, the Echelon 8 boasts a PWRRUN cushioning for its midsole. This ensures stability and also cushions your foot by softening the ground impact. It then features a Tri-Flex outsole which delivers reliable grip. And by complimenting the midsole, the Echelon 8 achieves excellent flexibility, durability, and adaptability.
The shoe then includes a FORMFIT construction which comprises 3D printed overlays and a mesh upper.
These features help achieve a snug fit to accommodate varying foot shapes and enhance the shoe's breathability. Your feet will therefore stay fresh and dry even during long-distance runs and in humid environments.
Further, the Saucony Echelon 8 incorporates a 3D heel counter which bolsters your foot's security. The toe box, as expected, is broad, delivering ample room for your toes to flex.
Saucony Echelon 8 men's shoe comes in width ranging from normal, wide, and extra-wide. The women's shoe comes in width ranging from normal to wide.
---
Buying Guide
All the shoes we have reviewed for you above are great for a wide-toe box. You also know much more about wide feet by now.
However, what more should you look for when buying your next running shoes with a wide toe box and narrow heel?
Below is a short guide for you to consider as you plan to buy your next pair.
Fit
Although all the above shoes have a wide toe box, they may not all be ideal for wide feet.
A wide toe box allows your toes to splay naturally. This ensures that you have both stability and comfort. As such, you need shoes that have wide width throughout.
However, there is a challenge. Some of the above shoes are narrow at the midsole and towards the heel.
As such, they may not be the ideal fit for you if your feet are all together wider. In such a case, you need a wide-width shoe that also has a wide toe box.
To get the right fit, you will need to:
·   Check the sizes of your favorite brand carefully
·  Read customer reviews about the shoes of your choice
·  Read other reviews online about the shoes
·  Fit the shoe before purchasing it
Road or Trail
Where you do most of your running is a factor you need to consider before buying a pair of shoes.
The shoes in our list are great for different running terrains.
Whereas some are suitable for use as trail shoes, others are suitable for use as road running shoes. Among our list, we also have shoes that are ideal for use on rougher roads or in wet conditions.
Different shoes are designed to withstand different terrains. As such, using your shoes for the intended terrain will prolong its lifespan.
On the other hand, using your shoe on the wrong terrain will wear it fast, and it may not be durable.
The Mechanics of Your Foot
This aspect has to do with how your foot strikes the ground. If you overpronate, look for a shoe that will offer you extra stability for a better stride. However, for runners with neutral pronation, a neutral shoe will be ideal for you.
Have you been using a minimalist shoe and want some additional cushioning? A zero drop shoe is ideal for you. It will also effectively keep your feet from pain.
Also, pay attention to your arch height. Matching your shoe to your foot helps to improve your run and ease your aches.
Durability
Every shoe brand is designed to be as durable as possible. However, some shoes outlive others.
Different factors determine the durability of your shoe. Some of these include:
·        Your foot mechanics
·        The intensity of your training
·        The terrain you run on
·        The quality of the shoes
For those who take daily short jogs, their shoes may tend to be more durable.
However, this is not so for marathoners, long-distance runners, and those who overpronate. They hit the ground a bit harder than a normal runner. As such, their shoes tend to wear out fast.
If you want a shoe that will last longer despite the conditions, go for a reinforced one. Reinforcing a shoe in the problem areas enhances its lifespan.
Frequently Asked Questions
Why are Wide Toe Box Shoes Expensive than Ordinary Ones?
This could mostly be because these type of shoes are not easy to find. However, most companies have started making these shoes.
How Will Shoes With Wide Toe Box Help Me Deal with Bunions?
These shoes create much space for your toes. As such, there is no risk of your bunion pain increasing at all.
Wrapping it up
Getting the best running shoes with wide toe box and narrow heel may not be an easy task. We hope that this review has made your search easier.
All the shoes we have reviewed here can serve you comfortably. However, remember to get the right fit for you.
Also, remember to fit with your orthotics too, to get the best size.