Running is an excellent means of losing weight fast. Even more important, running can not only help boost metabolism but also get you fit. Consequently, many people are looking for the best wide toe box running shoes.
But, there is nothing like the perfect wide toe-box running shoe. The reason being, running involves all sorts of things. Take, for instance, your weight, your biomechanics, the terrain, etc.
Therefore, it's hard to come across one shoe that suits all runners. Some deliver excellent stability while others are perfect for long runs, and so on. In this article, we will take a look at the Seven Best Wide Toe Box Shoes. Let's rock!
Wide Toe Box Running Shoes Comparison Table
---
Wide Toe Box Running Shoes Reviews
1. Brooks Ghost 12 – Best Overall
Are you looking for an enduring pair of wide toe box shoes from famous brands? If yes, the Brooks Ghost 12 is ideal for you. Firstly, it employs BioMoGo DNA foam alongside Brook's signature DNA Loft. With such heavy cushioning, it assures any runner of utmost comfort.
Secondly, this trainer includes a 12mm heel-to-toe drop. For that reason, it performs remarkably on paved surfaces. At the same time, it also excellent om smooth, natural terrains.
Thirdly, its outsole consists of a robust blown rubber covering almost the entire surface. As such, it adds to the total weight hence delivering maximum grip. Even amidst so much weight and cushioning, the shoe is highly responsive.
Another thing, the Brooks Ghost 12 is very durable. Thanks to its outsole. Among competitive counterparts, it stands out as a more economical choice.
Its forefoot outsole includes a segmented Crash-Pad system. Through this, it not only absorbs shock but also provides a smooth toe-off with each stride.
The Brooks Ghost 12 also features a minimal design with a notable sock-like fit. Then again, the minimalist shoe's construction is seamless to balance stretch, stability, and structure efficiently. With a moderate toe box, this trainer delivers enough room to wiggle your toes.
Read Full Review: Brooks Ghost 12
---
2. Altra Torin 4 Plush – Best Protection
The Altra Torin 4 Plush is also among the shoes with a roomy toe box that comes with a zero drop technology for feet balancing. It guarantees undisputable comfort, protection and extra wide toe box. It's an ideal pick for people who don't mind giving up a little responsiveness for underfoot softness.
Unlike its previous Altra Torin 4 model, it comes with 2 mm extra cushioning and a zero heel to toe drop. As such, this trainer delivers extra protection when on the road. Because of its extra cushioning, Altra Torin 4 is ideal for long, slow miles and recovery runs.
The Altra Torin 4 Plush also features the all-new, highly responsive, and lightweight Quantic midsole. By compromising some energy, this wide toe box shoe achieves excellent impact absorption. So if you care less about speed, you will love this extra plush trainer.
More importantly, this extra wide shoe includes a decoupled outsole. These barefoot shoes are a little rigid than the previous model due to the extra cushioning of the midsole. But still, it achieves an impressive degree of flexibility.
Equally important, with this zero drop shoe, you won't feel the ground underfoot. It provides a substantial amount of protection than most shoe models out there. To achieve this, it covers its foam on the outsole.
The upper support of this road running shoe has a cozier knit with excellent breathability and stretch. Besides, its lacing is also very secure. For this reason, it's ideal for running in loose gravel, streets, or fire roads.
The Altra Torin 4 zero drop technology ensures that you have a barefoot positioning. As such, this zero drop technology is ideal for improving your posture and flexibility. It is also ideal if you have a narrow heel.
---
3. Altra Escalante 2 – Best Balance
Like its predecessors, the Altra Escalante 2 wide width toe box shoe features a zero-drop base. Also, it comes with a foot-shaped toe box.
The trainer's outsole integrates Altra's FootPod Technology. With this, it mimics your foot bone's structure. In other terms, it flexes and bends at the same parts your foot moves and bends when running.
The midsole consists of Altra EGO, which is a proprietary foam blend. Other than comfort, it also offers some springiness with every stride.
About the upper, it is not just fully knit but entirely seamless to boot. Unlike the previous models, this wide width toe box trainer delivers additional support and structure.
Remarkably, the extra bit of structure does not compromise comfort delivery at all. The Altra Escalante 2 achieves a snug fit on your foot without being restrictive.
Similar to the other shoes in the Escalante line, the Altra Escalante 2 shoe is supremely comfortable. Wearing it feels like a sock. Thanks to its fully knit upper. The shoe's excellent breathability is also worth the mention. The shoe is also very helpful for bunion condition.
---
4. ALTRA Torin 5 – Best Wide Toe Box
The Altra Torin 5 is a dependable daily trainer designed to handle long miles, fast runs, and cross-training. It is an all-rounded shoe suitable for use as an hiking boot, for gyms, and roads. You can also use this wide running shoe as a trail shoe.
The Torin 5 is one of the best wide-toe box shoes for wide foot. It comes with the signature FootShape technology which creates more room on the toe box for a natural fit. This feature allows the shoe to take the shape of your foot, addressing the biological differences in women's and men's feet.
The outsole FootPod technology maps your foot's bones and tendons, encouraging natural movement underfoot.
This trail runner has a Balanced Cushioning platform that levels your toes and heel at an equal distance from the ground. As such, it encourages better alignment and a low-impact landing.
This trail running shoe is one of the best zero drop shoes, assuring you excellent stability on the run.
These hiking shoes feature an engineered knit mesh upper for enhanced breathability and comfort.
The upper is super flexible and light to keep your feet relaxed. Unlike the previous models, this Torin has charming colors for both men's and women's shoes.
The shoe's heel collar is well-padded to provide a luxurious, secure, locked-in fit and flexible feel. It has a silky smooth fabric on the entire collar, which acts as a protective padding to keep out dirt and debris.
This athletic shoe boasts a brand-new Altra EgoMax midsole, a significant upgrade from the Quantic midsole of Torin 4.5 Plush. The EGO MAX foam is more responsive, durable, light, and luxurious. It gives you a bouncy engaged ride, gentle support in the arch, and excellent shock absorption. It is also ideal as a walking shoe.
---
5. ASICS Gel Nimbus 23 – Best Responsiveness
The Asics Gel Nimbus 23 is a neutral shoe and a daily trainer with a squishy underfoot feel. This model is suitable for a wide range of runners as it provides plenty of cushioning, stability and comfort.
Designed with breathability and comfort in mind, the Gel Nimbus 23 features a soft, engineered mesh upper. The stretchy upper moves naturally with your foot and fits true to size.
The tongue fastens to the upper, preventing it from moving a lot while you run. It is also thick and well-padded to prevent it from rubbing against the top of your foot. As a result, it provides excellent comfort ideal for long runs.
The stretchy mid-foot panels hug the foot appropriately, giving it better flexibility.
The Asics Gel Nimbus 23 features a soft FlyteFoam Propel Cushioning in the midsole. This cushioning is lighter and more durable. It creates an incredibly smooth, bouncy ride underfoot and soft landing. The cushioning also increases the shoe's responsiveness and impact absorption.
Another prominent feature of the Asics Nimbus 23 is the Gel Technology Cushioning in the heel. With its contoured design lines, this gel cushioning provides excellent shock absorption and softness during a run.
This shoe uses gender-specific TRUSSTIC technology in the outsole to improve a runner's stability by providing a smooth transition. In women, the TRUSSTIC offers support for forward motion, while in men, it adds support towards the inside of the shoe.
Moreover, the Nimbus 23 outsole is a durable high-abrasion rubber (AHAR). As such, it flexes a lot, allowing it to bend with your foot, thus giving you a smooth transition.
The ORTHOLITE X-55 Sockliner further enhances the shoe's step-in comfort and responsiveness.
---
6. HOKA ONE ONE Clifton 7 – Best Breathability
Are you looking for a well-cushioned and responsive recovery shoe? Hoka One One Clifton 7 is a perfect choice, thanks to its smooth and well-balanced heel-to-toe transition. It is also reliable for long runs and daily training.
The outsole and midsole of Clifton 7 are similar to that of its predecessors. It uses the same full-compression EVA signature cushioning for plush comfort.
The Clifton 7 running shoe features an open, engineered mesh upper unit. This material is incredibly lightweight and breathable. As a result, it feels super comfortable even on long runs.
The 3D mesh overlays used in the upper are light, yet they secure your feet and provide the necessary support. This sneaker also creates an open, secure toe box.
Unlike Clifton 6, the Hoka One One 7 has a gusset that locks down the mid-foot, eliminating tongue migration. It has a brand-new Achilles collar which provides stability and support to the rear of the shoe. The collar also aids in wearing and getting the shoe off.
Clifton 7 has a wide base and a full-ground contact, providing more stability to the runner. Its lower drop and rounded sole support natural foot-strike, giving it a smooth heel-to-toe transition. The sole also has excellent shock absorption properties.
The midsole has minimal bounce, which is most evident in the forefoot at faster paces. The Clifton 7 provides an efficient gait cycle, and its Meta-Rocker roll technology enhances a smooth ride.
Although Hoka One One Clifton 7 has all the comfort you need to keep running, it is not suitable for faster runs and races.
---
7. Brooks Ghost 14 – Best Cushioning
Brooks Ghost features in our list of the best running shoes for wide toe thanks to its great features.
This shoe is neither too soft nor too firm, and its upper provides comfort to all types of feet. The shoe is also a stability shoe.
The shoe comes in a weight of 0.2 oz. However, it has maintained the same drop as its predecessor, ghost 13.
You will be happy to note that Ghost 14 features a full DNA loft midsole. This is an improvement from the previous Ghost 13 and helps to make your ride better. The midsole foam also helps to protect your feet.
Brooks Ghost 14 is also among the best shoes for a marathon. It offers perfect stability, high-level cushioning, and a very comfortable upper.
I have done with it 142 km, and my performance was excellent. The midsole cushioning ensures that weight transfer happens efficiently.
The outsole uses two different types of rubber. There is a soft rubber on the forefoot and a harder carbon rubber on the heel section.
Also, one of its forefoot grooves is partially filled with rubber. This could be a downside in that it makes the forefoot quite snappy and less flexible during transitions.
On the other hand, the rubber sole is relatively soft. As such, Ghost 14 offers you excellent traction on almost all surfaces.
The upper part features a generous foam padding in the hell tab, the tongue, and the collar. The upper features a new Engineered Air Mesh that hugs your foot to give you a secure and breathable fit.
---
Buying Guide for Best Wide Toe Box Running Shoes
Most runners opt for cheap wide toe boxes trainers. As a result, they don't receive the right amount of support, which leads to high chances of injury and conditions such as plantar fasciitis.
As you go shopping for shoes with wide toe boxes, consider the following factors:
Fit
As basic as it sounds, the fit is a vital feature in all running shoes. Therefore, consider an upper fit or last fitting that is fairly snug.
In other words, if your shoe is too big, you'll have instances of your foot sliding inside the trainer. Resultantly, this may bring about foot blisters. In the same way, a too-small trainer tends to squeeze your foot. By this, it puts you at risk of incurring a bone injury.
Also, there are cases of toenail problems that make your feet to bleed underneath. All these can result from a poor fitting.
Upper
This is simply everything you can find above the sole. Usually, wide toe box running shoes features layers of fabrics sewn and glued together.
There are modern models, however, that combine special printing and knitting altogether. By this, they come up with one-piece uppers that offer support in vital places or stretch.
Heel Height
This is the difference in height between the ball of your foot and the heel. Experts agree that changing drop can alter your stride. To elaborate more, it facilitates the different distribution of force to the leg and foot.
Go for running shoes that cut down stress on any weak areas of your feet. Also, the shoes should feel right from touchdown to toe-off.
Cushioning
Most running shoes feature cushioning in the midsole and forefoot. The midsole material is very practical in shock absorption from a heel strike.
Different shoes use different cushioning materials. But others feature a soft crash pad on the foot's outer edge.  Heel cushioning delivers some degree of comfort. However, I would tell you to get trainers with a balance of cushioning, ground feel, and stability.
Also, make sure the running shoes touch down where you expect them to before rolling into the stride.
Forefoot cushioning, on the other hand, protects the structures of your foot from any foot condition. So, consider running shoes with energy-return materials and designs. Besides offering protection, they also help propel your foot. As you pay attention to your trainer's responsiveness, also consider a firm push-off platform.
Outsole
Considering the type of terrain you run on is vital as well. The reason being, the compatibility of different running shoes with different surfaces varies.
Also, you may not have noticed the varying types of outsoles in different shoes. Those that have run on a terrain with the wrong outsole can remember slipping around. By doing so for long, you risk injuring your soft tissues.
As such, consider outsole materials that deliver grip and last long to boot. At the same time, make sure the material doesn't add extra stiffness or weight. Also, make sure your footprint shape matches that of your toe box running shoe.
Stabilizing Features
Different shoe brands employ different technologies. These may include guide rails, dual-density foams, medial posts, among others. With all these, they try to prevent your foot from rolling inward, over-pronation, and excessive motion.
Stability and control devices have proven to be nothing but helpful. They are effective in helping runners maintain their movement paths. So, look for a shoe that helps your feet to move naturally and comfortably through the stride.
Ankle Collar
At the shoe's opening is a wrap that keeps your heel down in place. That is the ankle collar. While some shoes rely on the shape, others use thick padding.
You just need to ensure your heel doesn't slip. Moreover, make sure the padding comfortably interacts with the bones around your ankles.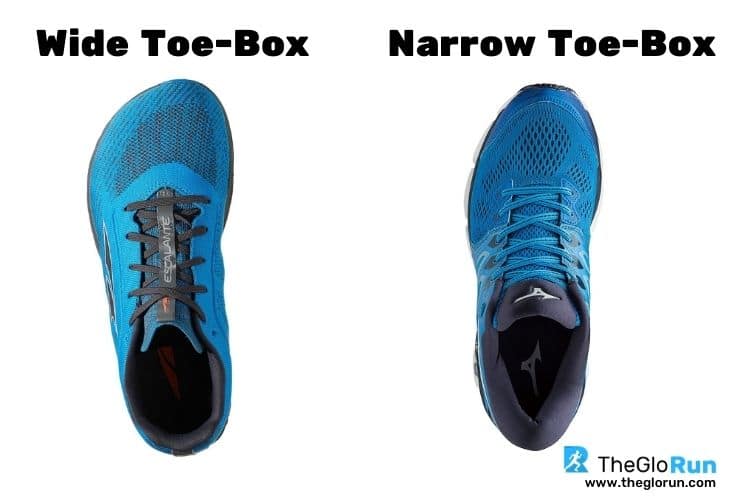 Frequently Asked Questions
Which Running Shoes have the widest toe box?
There a several shoes from different brands that will offer you very wide toe boxes. Some of the brands are the ones we have discussed such as Altra, ASICS, Hoka and New Blance.
What Shoes have wide toe box?
Not all running shoes have wide toe boxes. However, different brands make shoes that have this feature. The sure way forward here is to keenly check the specifications of the shoe to see if it has a wide toe box or not.
How should Running shoes fit in the toe box?
These shoes come with a snug-fit feature for all the other parts of your feet. As such, your feet fits in comfortably.
What is a wide toe box in shoes?
This is a feature that allows your fingers to be comfortable in every way inside the shoe. You should not confuse it with wide shoes because it also ensures that the other parts of your feet fits in well.
What is the drop in a wide toe box running shoe?
The heel-to-toe drop is the difference in height measured in mm between the toe and the shoe's heel.
Originally, wide toe box running shoes have a 10-12mm drop. Low-drop shoes, on the contrary, have a range of 4-6mm. Furthermore, theirs is also another entire category of zero-drop shoes.
When is it time to retire my wide toe box running shoes?
The answer is somewhere between 300 and 500 miles. But why the variation? Because how fast your shoe wears is up to you. Trust the feel.
If your trainers feel like they aren't offering adequate protection after a routine run, maybe they aren't. You may take a one-week rest to be sure that it's not just fatigue. If they still feel dead, then it's time to replace them.
Does the terrain you run on affect how your wide toe box running shoes break down?
Running shoes wear out quicker in road running than in trail running. However, how you run is also a factor you cannot look upon. Take, for instance, a 100-pound serious road runner will most likely wear out his trainers slower than a 200-pound heavy runner.
Conclusion
As you look for your next running shoe, be sure to consider a wide toe box model. However, there are too many trainer options in the market today.
With this article, we help narrow down the options to the Seven Wide Toe Box Running Shoes. After also going through our detailed buyer's guide, you'll have all the knowledge you need. We believe there has to be at least one shoe amongst the seven that can satisfy your needs.
To do so, just write down what you think a perfect running shoe should have. Then find the one shoe option that ticks most if not all the boxes.