Did you know that the construction of wide trail running shoes is different from that of other types of running shoes?
Trail running involves running through the countryside, a forest area, or a mountain.
As such, wide running shoes have more robust uppers and deeper lugs on their sole to handle any terrain.
Causes of wide feet include:
Genetic factors
Deformities such as calluses, hammer toes or bunions
Advanced age. Body ligaments and tendons loosen a little and your feet may grow slightly wider and longer
Among all the shoes I tried, I found the New Balance Fresh Foam Hierro V6 as my best choice for wide trail running. I will give you more details shortly.
I don't compromise on my foot care and I think you shouldn't too.
I'm appreciative that people appreciate the care I've taken of my feet.

Toks Olagundoye
Here is a detailed review of my top three recommendations plus others that you may also want to consider.
Review every shoes in our Guide:
New Balance Fresh Foam Hierro v6 – Out Top Pick
Are you a trail runner looking for great wide trail running shoes that are flush and comfortable?
The New Balance Fresh Foam Hierro V6 could just be what you are looking for. It's our top pick in this category and our number one recommendation.
1. New Balance Fresh Foam Hierro v6
4.6/5 Stars
Specifications
Relase Date: March 2020
Weight: 337 g
Drop: 8 mm
Train: Trail
Distance: Long Distance, Marathon

Check Best Price
Things We Liked
Protective undefoot
Comfortable
Super plush
Heel rudder
True to size
Amazing lockdown
As a trail runner, you will need a shoe that protects your underfoot from sharp objects. The New Balance Hierro V6 is plush and soft enough to absorb impact, so you don't feel brick.
The best trail running shoes should have an excellent fit, and that's what Hierro V6 gives you. After breaking them in, they fit excellently on wider feet.
I love enjoying a stable ride when racing on a trail. I was pretty skeptical when I first decided to change to this shoe.
It only took me the first 300 meters to know that I had made the right choice. The pair of shoes is incredibly stable, thanks to their wide base.
What's more, I was amazed that the manufacturers have further increased stability by including a funky heel rudder off the back.
Hardly will any serious runner purchase a shoe that does not offer them value for their money. New Balance seems to have realized this truth.
The New Balance Hierro v6 is among the best trail running shoes for wide feet in terms of durability.
The shoe features a tested and proven Vibram outsole that can go for miles without wear.
I can't finish this without mentioning something about the lockdown.
This trail shoe has a fantastic lockdown!
The shoe offered me a snug fit and a secure feel. The gusseted tongue is soft and of pliable nylon; hence they hug your feet tightly.
The only issue I have with this shoe is its breathability. It's only the vented perforations on the toe that allow heat and vapor to escape, but this also makes the shoe good for winter.
With Hierro v6, you get the best value for your money.
However, if you want a slightly cheaper shoe but with almost similar features, you can go for our second recommendation, Asics Gel Venture 8.
---
Asics Gel-Venture 8 Review – Best for the money
I choose this pair of shoes as the second top choice because it combines a friendly price with great features.
These are your best shoes if you are on a budget but still don't want to compromise on quality.
Anyone who has been running for a while appreciates the essence of wearing a comfortable shoe.
The Asics Gel-Venture 8 are amazingly comfortable wide width trail running shoes. Their upper sidewalls have an adequate cushion that will wrap the top of your foot snuggly.
Just like our top pick, these wide trail running shoes for wide feet have an excellent lockdown of the lace cage.
Again, this pair of shoes has enough cushion to secure your feet from the occasional errant rock or root along the trail.
What's more, I found these shoes quite impressive!
You hardly need to break them in because they are ready to go right out of the box.
The footwear has an excellent grip. I used them on pea gravel pedestrian trails and mountain terrains, and they handled the terrains satisfactorily.
Their grip is also excellent on wet surfaces. If you are looking for extra wide trail running shoes at a low price, these will make the best option.
The footwear is also great in durability, although not as good as the New Balance Hierro V6. However, their durability is far beyond their pocket-friendly price.
As runners, we also look for shoes that are lightweight to avoid extra weight. The Asics Gel-Venture 8 weighs 355g, which is the average weight of most trail running shoes.
I love having shoes that I can at times use just to take leisurely walks. Venture 8 offered me just what I was looking for because it's not bulky. The wide toe box is enough to allow my toes to splay freely.
You can comfortably use these shoes to transition from an easy trail to a casual day at work.
The only issue I have with these shoes is breathability. Despite being comfortable, you will have warmer feet on hot days as you use them.
However, many runners will not find this a big issue since the shoe is for shorter distances. Moreover, the warmth turns out to be a boon on cold days.
---
Altra Lone Peak 5 – Best Average Budget
Are you looking for averagely price best wide-width trail running shoes?
Look no further!
I loved them, well balanced, nice and flat, wide toe box, zero drop, and great on any terrain. All these make some of the outstanding features of the Altra Lone Peak 5 shoes.
3. Altra Lone Peak 5
4.7/5 Stars
Check Best Price
Things We Liked
Stiff and durable
Removable Ortholite insole
Easy to clean
Excellent lacing system
Extremely breathable
Sheds mud easily
Great water drainage
Things We Didn't Like
No ground feel
Relatively cold for winter days
Normally, I take new shoes out for 5 miles in order to break in and feel them better. However, for these shoes, I found myself covering well over 10 miles.
I was simply enjoying them!
The comfort and response are perfect. You will enjoy every step you make in these Altra shoes.
Like our other two top picks, the Altra Lone Peak 5 shoes have enough foam underfoot; thus, you need not worry about sharp rocks injuring your feet.
These wide-fitting trail running shoes have a wide toe box that allows your toes to splay naturally with every step.
The Altra shoes don't have many venting holes, and that may make you concerned about their breathability.
On the contrary, these Altra shoes are highly breathable, and your feet will remain cool throughout the race.
The grip also impressed me greatly, for they felt fine on all the terrain. They were also excellent on wet terrains when I ran through the mud.
The Altra Lone Peak 5 will also keep your feet protected, thanks to the 5.5mm outsole and added rock plate.
The one challenge you will have with these Altra shoes is that the fabric doesn't soak in water, so your feet get wet easily. However, the brighter side is that they dry out fast.
Although not as good as our number one pick, these Altra wide-fit trail running shoes are the best for an average price.
---
Saucony Excursion TR15 – Good Support
Although not as good as our top three picks, the Saucony Excursion TR15 trail shoe comes with all the essential features for trail running and outdoor use.
The moderate VERSARUN cushioning will help to absorb impact and reduce the pressure generated when your feet strike the ground. The cushioning provides ample underfoot comfort and keeps your feet steady throughout the run.
4. Saucony Excursion TR15
4/5 Stars
Specifications
Relase Date: December 2020
Weight: 292 g
Drop: 8 mm
Train: Trail
Distance: Marathon, Long Distance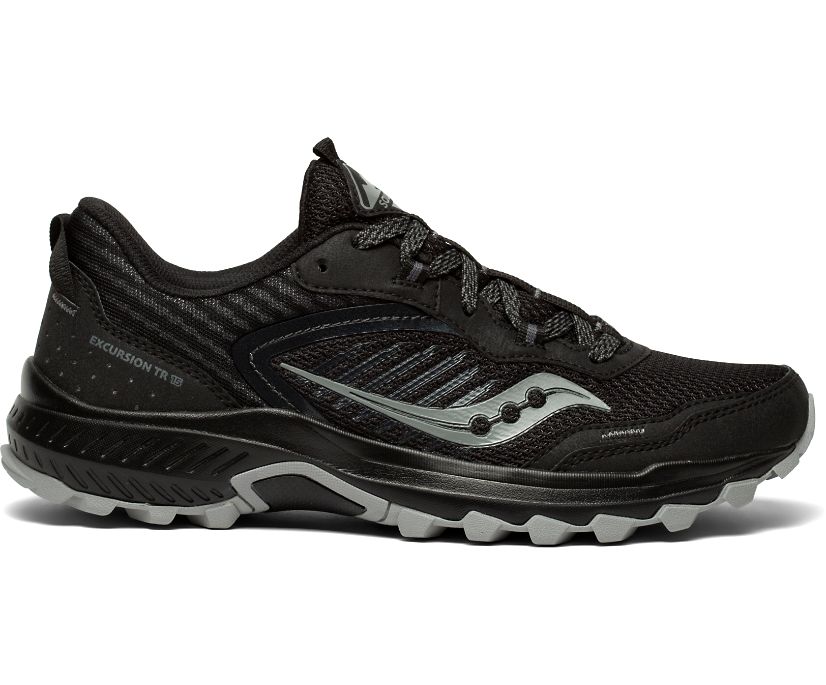 Check Best Price
Things We Liked
Protective performance
Highly durable
Great VERSARUN cushioning
Good breathability
Firm grip and traction
I also love the fact this trail running shoe comes with a trail-specific mesh upper with supportive overlays to secure your foot and protect it from thorns, dust, and debris.
The breathability is also relatively good. The upper Mesh allows for better breathability and your feet remain cool. Their wide toe box also will also allow free movement of your toes.
The outsole of Saucony Excursion TR15 wide trail running shoes has grippy lugs with carbon rubber that offers you firm grip and traction. You can run on any terrain without worrying about sliding or falling.
This trail shoe has heel and tongue pull tabs which make wearing and removing easy. They also have synthetic insoles to support, cushion, and prevent your feet from slipping when sweaty.
Saucony Excursion TR15 is a trusted all-terrain running shoe. You can use it on dusty, rocky, thorny, muddy, slippery, or wet terrains.
---
Brooks Cascadia 16 – Good stability
Brooks Cascadia 16 trail runners for wide feet are best for people who love to explore new terrains.
This Brooks Cascadia trail running shoe adapts quickly to changes in terrains, keeping you stable and comfortable throughout the run, thanks to its wide toe box.
These wide-fit trail running shoes feature unique release grooves in the outsole and midsole, which allow the Brooks shoe to mold easily to rough terrains, thus providing a stable ride.
The Brooks trail running shoe has an updated Ballistic Rock Shield with vertical grooves for side-to-side adaptability. This construction protects your foot from pebbles or debris and allows the foot to flex and adapt to all terrains.
Brooks Cascadia 16 wide foot trail running shoes feature a new DNA LOFT v2 technology, making it lighter and softer than its predecessors. It also has a 2 mm foam in the midsole for extra comfort.
This Brooks trail shoe for wide feet has a TrailTack rubber outsole that offers wet-dry traction.
They also have gussets to keep out small debris/ sand and drainage ports for easy water escape. As such, this Brooks shoe provides high performance on all terrains and weather conditions.
Although I didn't find it as good as our top 3 recommendations, this Brooks running shoe still features in our list.
---
Salomon Speedcross 5 Wide – Good Versatility
Salomon Speedcross 5 Trail shoes are perfect for a runner who loves to explore wet, dirty terrains.
This Salomon trail footwear has a good grip, traction, and protection on trails, although not as good as our top three. It allows you to conquer wet, soft, and technical trails fast and with ease.
6. Salomon Speedcross 5
4.6/5 Stars
Specifications
Relase Date: July 2019
Weight: 330 g
Drop: 9 mm
Train: Trail
Distance: Long Distance, Marathon

Check Best Price
Things We Liked
Responsive
True to size
Superior traction
Comfortable
Lightweight
Great foot protection
Its rubber outsole has sharp, deep lugs to enhance the grip further and give the shoe durability.
Salomon Speedcross 5 wide trail shoes have a dynamic upper to provide you with a better fit and more stability.
The versatility of these Salomon shoes makes them suitable for road running, trail running, hiking, mountaineering, and backpacking. They offer a smooth, stable ride on all terrains.
But for the sizing, the Salomon brand shoes may not always fit true to size based on several customer reviews. In this case, you need to size up to get a perfectly fitting shoe.
Salomon Speedcross 5 men's trail running shoes for wide feet are comfortable straight out of the box. They do not require a break-in period and the toe box is wide enough.
The wide toe box offers your toes freedom to splay comfortably.
One half of the upper is water-resistant, while the other half is mesh. As such, you will have ample breathability and water leakage protection when walking on wet surfaces.
---
Topo Athletic MTN Racer 2 – Good Comfort
Last but not least is the Topo Athletic MTN Racer2.
The Topo brand offers one of the best wide trail running shoes that features a standard wide toe box.
The roomy toe box helps align your toes in their natural position, improving your comfort, balance, and stability.
Also, there are no wide trail running shoes from the Nike brand. The brand only offers wide running shoes for road running.
Topo Athletic MTN Racer2 wide trail shoes are perfect for technical trails due to their lightweight nature plus firm midsole and outsole.
The second edition of this trail shoe features a brand new mesh upper that offers improved breathability.
This pair has an updated 3-piece midsole which features a new ZipFoam technology to give an extra underfoot response. ZipFoam is springier than EVA and provides the shoe with more resilience than its predecessors.
Topo Athletic MTN Racer2 wide trail runners have an Ethylene Vinyl Acetate sole. The shoe's outsole comprises durable Vibram Megagrip material for excellent traction and grip on dry or wet surfaces.
It also has a TPU heel counter with a 5 mm heel-to-toe drop. These features encourage an optimal level of cushioning and keep your feet locked in over a neutral platform, resulting in a more stable ride.
---
Buyers Guide for Wide Trail Running Shoes
Trail running shoes have unique characteristics that distinguish them from road runners and casual shoes.
Below are vital factors to consider when buying wide trail running shoes.
Types of Trail
The type of wide trail footwear to buy depends on the terrain you are using. There are three main types of trails: light trail, rugged trail, and off-trail.
Light Trail
If you plan to run on uniform surfaces such as gravel paths, fire roads, and rolling hills, light trail shoes are an ideal choice. These shoes are closest to road runners in build quality and weight.
Qualities
Lightweight
Shallow lugs on the sole to offer traction on packed soil
Moderate stiff build to provide stable foot placement
Some have ample midsole cushioning, while others have minimal cushioning to give you more touch with the trail.
Moderate protection from rocks and roots
Rugged Trail
Shoes designed for rugged trail running have increased underfoot protection. They are mainly used for hiking but also suitable for a variety of other terrains.
Characteristics
Upper front toe guards and hidden plates underfoot to protect the feet from rocks and roots.
Strong overlays and overall build quality for protection against thorns
Stiff build and supportive upper to stabilize the feet on uneven surfaces and switchbacks.
It comes with a resilient midsole cushioning for impact absorption when you make a hard landing. Some models have internal shanks to reinforce the midsole's stiffness.
It has thick multi-directional lugs on the soles to provide better traction on mud and soft soil.
Diverse lug patterns to offer stop power at any angle
Off Trail
If you need optimal protection over highly rocky and uneven terrains, off-trail shoes are perfect. They have aggressive outsoles and a more enhanced structure than other trail shoes.
Characteristics
The shoe features more resilient materials in its construction. For instance, most off-trail shoes have polyurethane midsoles rather than EVA foam.
There are more waterproof shoes in this category because they involve remote running, exposing you to extreme weather.
Terrain or Tread
Trail shoes are characterized by aggressive treads, just like our top pick, unlike road racing shoes.
If you are on muddy or unstable terrain, you will need a shoe that has a more aggressive tread.
It should have deep widely-spaced lugs for better traction and allow mud and soft soil to drop off quickly. As a result, you will have good support for your instep to help keep balance on uneven trails.
When running on rocky or rough terrain, you need shoes with stiffer outsoles for stability. It would be best also to buy running shoes with reinforced uppers to protect your feet from rocks.
If you are running on hard-packed trails, you will need lightweight shoes with closely-spaced lugs (4 mm or less). This way, you will have the necessary grip on various surfaces, thus improving your efficiency.
Shoes with thinner outsoles are more lightweight and stable. You should also ensure that the shoe is flexible enough for easy foot placement when running faster.
If you run in wet climates, cold weather, or snowy seasons, a waterproof membrane and integrated gaiters are crucial considerations when buying your trail shoes. They help keep your feet warm and dry.
Your shoes should also have an excellent tread with metal studs and deep lugs for extra support and protection.
Cushioning
Cushioning is sometimes referred to as stack height.
Wide-width trail running shoes vary in their levels of cushioning and ground feel. The different types of cushioning include:
Barefoot: These shoes have no padding. They appeal to people who want to have an enhanced feel on the trail.
Minimal: These trail shoes are perfect for runners who want a better close-to-the-ground feel for the trail without compromising on all the midsole padding.
You may opt for this cushioning if you run short distances or run on smooth, soft trails.
Moderate: These shoes have enough padding to keep you comfortable on rocky or rooty trails.
This cushioning is ideal if:
You want to wear your shoes on trails and roads
You run long distances
You run on hard-packed trails
Maximum: These shoes have heaps of padding in the midsole. A lot of cushioning helps to reduce fatigue on long runs and reduces landing impact.
They are perfect for heavier runners and those who struggle with bunions, knee, and joint pain. They protect them from the hard ground.
Heel-to-Toe Drop
Heel-to-toe drop can range from 0 mm to over 12 mm.
Barefoot shoes have a zero drop
Minimal shoes have a drop of 0-4 mm
Moderate and maximum shoes have varying toe drops
When deciding the toe drop that works best for you:
Match the drop of your most comfortable running or casual shoe. This way, you will be sure to choose one that fits your body's biomechanics.
A drop of 10 mm to 12 mm is conventional and offers ample cushioning in the heel. It is perfect for runners who land on their heels when they run.
Shoes with lower drops help to promote more midfoot or forefoot strikes. As a result, you get better balance, muscle engagement, and a more stable landing platform.
Lower drops engage your Achilles more, especially when running uphill.
Training Volume
If you run occasionally or are new to trail running, buying versatile and lightweight shoes would be good. They should also be well-fitting and comfortable.
If you are an experienced trail runner looking to improve your performance, you will need shoes with good support and built-in protection. With this, you can do intense training for long hours.
Rock Plate or Foam?
If you run on gravel, rocky or technical trails, you need shoes that protect your feet from rock bruising. Trail running shoes with a rock plate or thick foam in the midsole are ideal for offering excellent built-in protection.
Plates offer precise foot placement and a more natural feel on the trail, while foam absorbs shock more.
Frequently Asked Questions
Are Wide Fit Trail Running Shoes Suitable for Bunions?
Yes, wider fit shoes offer more space for toes to wriggle freely. As such, they are a desirable choice if you have bunions or other foot problems.
Wide toe box trail running shoes for bunions are available in men and women versions.
What Is the Benefit of Wearing Wide Trail Running Shoes?
Wide and extra wide trail shoes provide immeasurable comfort and relief, especially to runners with wide feet. They are also perfect for runners suffering from bunions and other feet/ joint pains.
Wearing too-narrow shoes can cause Morton's Neuroma, corns, ingrown toenails, and other foot conditions.
Can I Run On the Road With Trail Shoes?
Moderately cushioned trail running shoes are the ideal type to use on the road. They provide enough, but not too much, padding provides you with support and comfort on hard surfaces.
They also have closely-spaced lugs to give you the necessary traction.
Should My Trail Running Shoes Be a Size Bigger When Purchasing?
It is recommendable to go for a size bigger than your typical, especially when making an online purchase. Doing so leaves enough room should your feet swell.
But if you are purchasing your shoes at a local store, there is no need to go for a size bigger. However, ensure that you do your shopping later in the day after walking for some time. This way, you will get perfect measurements when your feet are at their maximum length.
Conclusion
Trail running is enjoyable when you have the right kind of shoes.
I have chosen the New Balance Fresh Foam Hierro V6 as my top choice because in it I found all I was looking for.
The trail running shoe is plush, soft and excellently protects yours underfoot from sharp objects.
I also found it to have an excellent fit and incredibly stable, thanks to the wide base.
For me, this is the shoe that offers value for their money.
However, if you are strictly on budget, you can consider our number two pick, Asics Gel-Venture 8.
I believe your feet are worth protecting and running is worth enjoying. Go for the best choice today!