As we age, we face a potential decrease in strength and limitations in range of motion. Having the best running shoes for older runners is a major consideration at this time in your life. Even more so than when you were a younger runner.
Seniors and older runners require shoes that will provide arch support and stability. They also need shoes that are good at shock absorption.
It is important that their shoes protect their feet from injury and offer enhanced comfort. As such, high cushioning is ideal.
This is a selection of the best running shoes for senior runners. It includes shoes for older men and women. Save hours searching for your running shoes and take advantage of our expert advice.
The Best Running Shoes for Seniors
The Best Neutral Pronation Shoes are the Brooks Ghost 13, available for older ladies and men, and it offers the best price-value ratio from all shoes in this selection.
Best Overpronation and Stability Running Shoes are the Hoka One One Arahi 5 also available for men and women. Stable and even at a lower drop, still very comfortable.
Best Budget Running Shoes for the Trail with Neutral Pronation Asics Gel-Venture 7 are especially suitable for running or walking on unpaved surfaces.
The Best Budget for Road Running is the New Balance 680v7 (men and women). These shoes are great for a runner with wide feet and are very light and comfortable.
---
Best Running Shoes for Older Runners Product Review
1. Brooks Ghost 13 – Top Pick for Neutral Pronation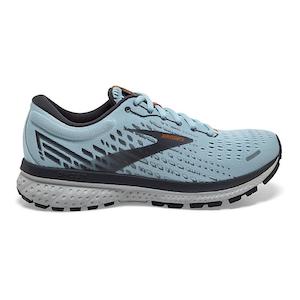 Brooks Ghost 13
This is our top pick for this category.
The Ghost 13 is a neutral running shoe that's light, flexible and perfect for medium to high arches that don't need a lot of support.
Cushion Level: Mid Level Cushion gives you lots of cushion to soften landings for long or short runs.
Midsole Drop: Your Women's Brooks Ghost 13 has a heel to toe drop of 12 mm.
Shoe Weight: 8.8 ounces
Perfect For: Everyday running on roads and paved paths.
Check Price at Road Runner Sports
Are you looking for the best-value shoe for neutral pronation?
Brooks Ghost 13 is our top pick for this category.
I found this neutral daily trainer excellent! The shoe screams comfort with its generous padding, and it felt like a couch to my feet.
The shoe features an instant step-in comfort and a stretchy plush upper that many experts and runners have praised.
The midsole is also far more luxurious than other mid-range daily runners that I have used before.
The grip of this shoe also impressed me. The grip is excellent, both on wet and dry surfaces.
Breathability is a factor I pay keen attention to whenever I buy running shoes.
You will most likely love the breathability of Brooks Ghost 13, and it keeps your feet aerated thanks to its breathable upper.
You will also love the flexible outsole. Brooks 13 features flex grooves that offer you flexibility in the most crucial feet areas to match the motion of your feet.
This shoe is excellent for you if you are looking for:
A comfortable ride when doing recovery runs and slow-paced long runs
Maximalist daily trainer to do road running
The shoe is an excellent pick if you look for a consistent, stable, smooth ride and effortless transitions. The 12 mm shoe's drop and the full-contact outsole combine to grant you these benefits.
However, this may not be your go-to shoe if you are looking for responsiveness. The shoe's design doesn't support fast speed.
I didn't find that a big deal since I specialize in slow, long-distance runs.
---
2. Hoka One One Arahi 5 – Top Pick for Overpronation
When it comes to overpronation and stability, no other shoe beats Hoka One Arahi 5.
This shoe features a dense EVA J-Frame that wraps the medial side and heel to offer adequate support for overpronators.
With these Hoka's J-Frame technology, you have an assurance of stability as an overpronator.
It's also amazing how the padded tongue and heel collar lock your ankle and don't cause friction.
This shoe is also a master of smooth transitions. I enjoyed how the Meta-Rocker facilitated fast and smooth heel-to-toe transitions.
The shoe felt secure as I went around corners, and this is thanks to the flat-waisted geometry that offers a generous fit.
One of the remarkable things I love about Arahi 5 is that I need not run cautiously on wet surfaces anymore!
With its textured tread pattern, this shoe gives you a tackier grip. You can never lose your footing on wet roads or concrete.
I highly recommend this shoe as a daily trainer or workhouse shoe.
Amazingly, even after covering 400 miles with it, it still felt very light on my feet.
The durability of the Arahi 5 is also beyond question. It features a well-built upper with great welded overlays, and the outsole also features a dense rubber that ensures the shoe lasts long.
The Arahi 5 is a max cushioned, plush shoe to wrap it all.
Your feet will enjoy a cushioned ride. Even more impressive is that its super plush nature doesn't slow you down.
The one issue I found with Arahi 5 is the long laces that are also stretchy.
However, I was able to turn this to my advantage by utilizing both upper lace holes.
---
3. Asics Gel-Venture 7  – Best Budget Running Shoes for the Trail with Neutral Pronation
The uppers of these shoes are sturdy and breathable as well. Your feet will be comfortable, thanks to a breathable mesh that is part of the upper unit. There is also good quality leather on the uppers designed to provide structural integrity to the shoes.
And the result is a very durable performance from your shoes. As a senior runner, you could use plenty of comforts, and Fortunately, these shoes also have a fabric lining underneath the upper materials to comfort your feet.
What's more, Asics Gel-Venture 7 boats the brand's excellent cushioning material – the rearfoot Gel® cushioning. Therefore, the shoes excellently absorb all the impacts during jogs and runs. And this makes them ideal for aged athletes.
Above the Gel technology cushioning is an EVA foam midsole that provides additional cushioning to the heel. The EVA foam midsole also provides a responsive ride, essential after a fatiguing run. As a result, you may experience improved performance while running in these shoes.
The trainers also have insoles that protect the feet further, besides giving aged athletes a plush comfort. And since Asics is known for its AHAR outsoles, you can expect to have high abrasion rubber protection.
The trail-specific outsole also comes with reversed lugs. The reversed lugs help to offer optimal uphill and downhill traction on various terrains.
Also, this rubber outsole material provides excellent traction on all surfaces. Therefore, these Asics trainers are ideal for aged athletes.
---
4. New Balance 680v6 – The Best Budget for Road Running
The New Balance 680V6 are road running shoes that are an excellent choice for older runners.
First, the upper comprises a pliable mesh that makes the trainers breathable. Also, the shoes take up the shape of your feet, thanks to the upper mesh. And this works to make them have a snug yet secure fit.
Older runners need additional comfort. The well-padded neoprene tongues in this training shoe ensure you get exactly that. The languages hold the shoelaces in place to prevent slips and proper foot lockdown.
Also, you will get excellent support from the trainers, thanks to the padding on the tongues.
The midsole is where the shoe gets better! The ACTEVA LITE foam in the midsoles reduces stress on your heel since it absorbs all impacts. It is also suitable for energy return.
It also provides a responsive ride to boost your running performance. The foam runs across the entire midsole and provides heel-to-toe cushioning.
These are running trainers that older runners could appreciate since they absorb shock excellently, especially during the heel-toe strike. The durable rubber outsoles make the trainers have impressive traction on all terrains.
The rubber outsoles will protect your feet from impacts since they have some cushioning effect. And they also provide more responsive rides. The excellent cushioning and a responsive ride make them ideal for aged athletes.
Full Review New Balance 680v6
---
5. Brooks Ghost 12
Best Cushioning
Things we liked A seamless upper mesh for breathability. 3D Fit Print overlays add support. Padded collar and tongue add comfort. The shoes have a shoelace anchor. BioMoGo DNA for cushioning. Segmented crash pads for protection. Flex grooves on the outsoles.
Things we didn't like The toe box might be small, and the shoes don't provide a responsive ride.
The upper unit of this shoe comprises an engineered mesh that makes the shoes breathable. What's more, the mesh has a seamless construction to stave water. And this means your feet will be dry and have plenty of fresh air to cool them.
There are also 3D secure Fit Print overlays that provide structural strength to the upper mesh. It is impressive how the synthetic overlays add support without adding significant weight to the trainers. An older runner may appreciate the shoes' comfort since you get a soft fabric lining beneath the upper mesh. And you can wear these shoes without a pair of socks.
More comfort comes from the padded tongues and collars. The DNA Loft material in the midsoles absorbs shocks to protect your feet from pain. The cushioning material covers the entire length of the midsoles, providing maximum protection.
You also get the BioMoGo DNA cushioning material to provide extra shock absorption when running. Like the DNA Loft, the DNA covers the entire length of the midsole for protection. The DNA mimics the contours of your underfoot, making the shoes more comfortable to wear.
Lastly, the shoe has segmented crash pads strategically placed in areas with high impacts during landing. And on top of the cushioning material, there is an insole for a softer and plushy feel. Away from the midsoles, you get outsoles that comprise a blown rubber.
The outsoles have high abrasion rubber and provide the traction you need on all surfaces. The flex grooves on the outsoles permit natural foot movements during the gait cycle.
This running shoe has what it takes to protect aged athletes from pain-inflicting shocks.
Read Full Review: Brooks Ghost 12
---
6. Hoka One One Bondi 6
Best Design
Things we liked Upper mesh for breathability—a Lycra frame for back comfort. The heel counter prevents slips. The EVA foam is 30% lighter. Hi-abrasion rubber outsoles for protection. They have a smooth transition.
Things we didn't like Some parts of the outsoles wear out sooner. The tongue might rub your feet.
These shoes have a cloth-like upper mesh that makes them breathable. As a senior runner, you could appreciate having a comfortable in-shoe environment. And that's what Hoka One One Bondi 6 running trainers offer.
The backside of these trainers is comfortable since there is a Lycra frame in place. The structure's purpose is to make the shoes conform to your heel's curves. Thanks to the heel counter aboard the running shoe, your heel will lock in place and not wobble.
The midsoles work to protect you from impacts during runs. The midsole comprises a soft EVA foam for outstanding shock absorption.
The midsole's design permits exceptional transition when running, thanks to the Early Stage Meta-Rocker Geometry midsole construction. One thing these trainers are known for is their excellent rubber outsole material.
The Hi-Abrasion Lightweight rubber makes the outsoles have impressive traction and resistant to the abrasive asphalt. But this outsole material only exists in places that often experience wear.
Other parts of the outsoles comprise a Full Ground Contact rubber for impressive traction. Since these shoes provide comfort by absorbing shocks, they're also ideal for older athletes.
---
7. Saucony Cohesion Guide 13
Best Breathability
Things we liked A breathable upper mesh. Printed overlays for structural support. Lacing system for excellent foot lockdown. PWRRUN cushioning is impressive. The FORMFIT provides a responsive ride, and TPU prevents overpronation. Outsoles have flex grooves. The shoes have remarkable traction.
Things we didn't like The midsoles might be stiffer. The underfoot might feel bulky.
The upper of these best running shoes also comprise an engineered mesh. Since the mesh has a cloth-like feel, you will get a sock-like comfort when wearing these shoes. The upper mesh also makes the shoes conform to your feet' shape, making them very comfortable.
There are printed overlays on the sides of the upper unit. The overlays bolster the upper, giving the structural strength they need to serve you. Also, the overlays protect the upper mesh, making the shoes durable.
They have a traditional lacing system that guarantees exceptional foot lockdown. Therefore, your feet will not slip inside the shoes, which reduces wobble that may cause accidents.
Saucony uses unique midsoles – the PWRRUN material, and it runs throughout the length of your underfoot to absorb all the shocks during hard landings. As a result, these Saucony shoes are best for aged athletes.
There is another cushioning material on top of the PWRRUN. The FORMFIT material absorbs extra shocks and provides a responsive ride. You also get insoles that conform to the contours of your underfoot for plush comfort. With all the comfort available in these shoes, your running experience will be a smooth ride.
The TPU material in the midsoles works to prevent overpronation. It also supports your arch for better running performance and a smooth ride. The outsoles comprise a good quality rubber that protects you from abrasive surfaces.
The outsoles also offer sufficient traction to prevent slips and accidents. With the flex grooves on the outsole rubber, you can expect to flex your feet naturally for a better run. These Saucony shoes have what it takes to improve the experience of aged athletes.
---
8. ASICS Gel-Nimbus 19
Best Anti-bacterial Treatment
Things we liked A glove-like fit for comfort—breathable upper unit. ComforDry X-40 sock liner prevents foul odor FlyteFoam midsole cushioning. FluidRide technology for a resilient ride. Abrasion-resistant outsoles. Excellent traction on all surfaces.
Things we didn't like The toe box might be tight. Some users complain that the outsole isn't durable enough.
These running shoes are very comfortable owing to their seamless upper mesh construction. The upper provides a glove-like fit, and it conforms to your feet' shape, thanks to the multi-directional stretch.
The upper unit also has the ComforDry X-40 sock liner that adds more comfort. The sock liner has an anti-bacterial treatment to reduce the odor that might arise after running and sweating inside your shoes.
The FlyteFoam midsoles provide adaptive cushioning, and it absorbs all the shocks, thus reducing impacts to your joints and muscles. As such, these shoes are best for aged athletes. The midsole material gives old runners a responsive ride besides making the shoes more durable.
You also get cushioning to your heels and forefoot to land without experiencing pain, thanks to the rearfoot and forefoot gel cushioning. Another midsole material – the FluidRide – promotes a resilient ride. These budget-friendly running shoes could benefit aged athletes since they also have a Guidance Trusstic System for gait efficiency.
Since Asics uses Hi-Abrasion rubber on the heel and forefoot, their outsoles protect your feet from the abrasive asphalt. This type of rubber also provides excellent traction on all surfaces to prevent accidents.
The rest of the outsoles comprise durable carbon rubber for outstanding traction. These Asics are best for aged athletes with all the safety and cushioning features.
---
9. Brooks Adrenaline GTS 20
Best for Overpronation
Things we liked Features a flexible and breathable upper Have a strong cushioning Offers good stability. Comes in a ray of colors. The insole is removable. Features a comfortable padded collar and tongue Great cushioning Supports overpronation Good for stability Good for medium and flat arches
Things we didn't like Fits smaller than a standard size shoe Some users complained about discomfort.
The Brooks brand of shoes has become very popular with runners for many years now. The brand has also become one of the favorites for aged runners, both men, and women.
This shoe comes as one of the funkier models of this brand, and it comes in a whopping 30 different designs that stand out for their comfort. As such, they are not only suitable for use as running shoes but also as casual wear when taking your walk.
If you tend to overpronate when your heel to toe tilts inwards, this shoe is right for you. The shoe supports your feet and ensures you have stability and enough cushioning.
They are suitable for arch support, especially if your arch is flat or medium. This shoe provides support as you run, ensuring that you are stable with every step. The insole is removable, and you can easily replace it with another one.
Other than the feet, aged runners are concerned about their knees. This brand has made the Adrenaline GTS 20 shoes with that in mind.
These runners may feel their knees going slightly out of the ligament after moving their legs. This shoe features a GuideRails Holistic support system design that helps to minimize this movement.
This shoe also features a DNA Loft Crashpad that works together with the DNA. These two help cushion each footfall and adapt to each stride you make.
Another feature is the modernized, streamlined mesh upper fit that comes with a 3D fit print. It helps you to have a good structure and fit without being bulky.
Read the full review here.
---
10. Under Armour Charged Assert 8
Best for High Impact Zones
Things we liked Features a sturdy rubber sole. The midsole has cushioned foam. It comes in a ray of 13 colors, Offers outstanding responsiveness, Has a breathable mesh upper Lightweight.
Things we didn't like May become squeaky after using them for a while. Runs smaller than the standard shoe size
The Under Armour Charged Assert 8 running shoes are a program designed to provide you with balance, and they are also ideal for runners looking for flexibility and cushioning.
They come in an exquisite appearance, with their mesh upper, in three-color digital prints. Besides, they provide a means of fantastic comfort for road running.
These shoes are lightweight, thus very essential for running without the burden of extra weight. Moreover, they also feature a breathable upper, which gives you a fantastic running experience. They are an excellent asset for both men and women runners looking for effectiveness, thanks to their comfortable fit.
This running shoe for older runners features a highly durable leather that locks in your midfoot. The high-quality Eva sock liner also helps provide optimal cushioning for comfort.
For enhanced responsiveness, the charged cushioning midsole features a compression-molded foam. This feature is ideal when it comes to providing optimal energy returns.
The sole of this shoe is very solid. You can use it comfortably on high-impact zones to achieve greater durability with less weight.
This running shoe is also wider. This feature provides you with enough space for your toes and helps to enhance comfort while running. The shoe also features high padding, and your ankles feel free.
---
11. Skechers Max Road 4
Best Versatility
Things we liked Features a Hyper Burst midsole for a bouncy and fun ride, Has a high cushion compared to the weight Features am M-strike that promotes a midfoot strike. Its new upper is suitable for foot lockdown. Less weight than the previous version
Things we didn't like Not very durable The tongue slides laterally and downwards.
This running shoe features a highly cushioned Hyper Burst midsole. Moreover, it feels responsive and bouncy and does not have the mushiness found in other soft midsoles.
The inner sole of this shoe is removable, which means you can run with the inner sole or without it, and it will still be comfortable.
This running shoe is most suitable for long runs at relaxed paces with the insole in. However, the shoe will be ideal for faster, short runs when removing the inner sole.
This running shoe will also offer you excellent grip; thus, you need not worry about slipping. The midsole is also versatile and fatigue-resistant, thanks to its super lightweight. This feature makes it ideal for old runners since it keeps your legs fresh after running and allows you to pick up more pace as you like.
However, the midsole is also very soft, making the shoeless stable at the base. The Skechers GOrun MaxRoad features an M-Strike midsole, and this feature is more like the Meta-Rocker from Hoka.
The boat-shaped midsole helps you strike more towards the midfoot of the shoe. This shoe is also highly flexible, and it features six deep grooves cut into the outsole that allows easy flexing in the forefoot.
However, its upper area is not as plush as other competing brands. It lacks thick, luxurious padding, and this helps to save weight. Its breathability is also at its average compared to other brands.
---
Buying Guide
As you grow older, the natural padding on your feet gradually diminishes. When this happens, most people tend to give up on running and exercising. However, getting a high-quality and well-cushioned running shoe designed for older runners' can be a game-changer.
Below are vital qualities you need to look for in the best running shoes for older runners.
Padding/ Cushioning
Old age brings about stiffer and less flexible joints. You need a well-padded shoe to protect your joints from wear and tear and cushion your feet in every step. Good cushioning also helps relieve stress from your hips, knees, and feet.
Ensure that the heel to toe and midsole have ample padding for excellent impact absorption. The sole should be well-padded to support ankle bones and Achilles's tendons, and foam, gel, and EVA are the best padding options.
Size
When shopping for running shoes for older people, ensure that they are very comfortable. It is recommendable to get a size up than your usual to avoid a very snug fit. However, make sure that your feet do not glide inside the shoes.
Doing so will prevent unnecessary pressure on the already weakened joints and muscles. A larger size also ensures there is enough room for all your toes. Squeezed toes result in blisters, warts, and reduced blood flow.
Besides getting the right size, ensure that the shoe has the proper racing technique. Correct racing keeps your heel rightly positioned and prevents the foot from sliding around.
Terrain
Before making a buying decision, it is essential to clarify your running needs. Do you want an everyday walking pair or a shoe that can handle rugged trails? Your specific condition will help you choose an ideal shoe with appropriate cushioning and shock absorption capabilities.
There are plenty of options for both trail-specific and neutral runners in the market. Your running surface also determines the traction you require from the shoe's outsole. There are standard outsoles for typical terrains and others suited for trail running.
Comfort and Support
Seniors should consider footwear that comes with a flexible leather or meshes upper. These materials are excellent in providing the needed support, comfort, and breathability.
Going for shoes that have a tapered support system from heel to toe is also a good idea, and they aid in reducing strain on feet, heels, and ankles.
The best running shoes for older runners should be well-cautioned to sufficiently absorb shock during ground impact. Cushioning also helps make up for the diminishing muscle elasticity, reduces joints' wear and tear, and increases comfort.
To further enhance comfort and ensure efficient blood flow to the feet, avoid tightening your shoelaces too much.
Stability
We are more likely to lose balance as we age, whether on flat surfaces or trails. As such, ensure that the outsole of your running shoe is well-contoured to increase support.
Your foot positioning/ posture is another excellent determinant of stability when running, regardless of age. Your foot could be overly or slightly tilted towards the outer or inner side of the foot – pronation. There are specific shoes for supporting and correcting each foot posture and consult with a foot specialist for perfect fitting.
Design and Ease of Use
Running shoes with new lacing technology are incredibly easy to use, and all you need to do is pull a single string, and the shoe tightens up. This feature is handy for seniors who have difficulty lacing up their trainers due to decreased mobility of their hip, back, and foot.
Running is a challenging task for aged runners, and it is recommendable to get running shoes that are as light as possible. They help reduce the strain that comes with each stride, prevent muscle fatigue, and make running easier.
Also, ensure that your shoes are easy to put on and remove.
Frequently Asked Questions
What are the best running shoes for older heavy runners?
New Balance and Hoka One One have all it takes to support heavy old runners from our review. These shoes come with a broad base to evenly distribute shock and offer excellent stability, and they also have extra cushioning to support excessive weight and keep the runner comfortable.
How does age affect the feet of older runners?
As you age, the ligaments and tendons of your feet lose their elasticity, thus stretching out. In the process, the depth of your foot arch reduces, which leads to a flat foot. Also, the Achilles' tendon shortens with age, and this further aggravates the flat-footed condition. It becomes more evident in your running and walking.
What are the key factors to consider when buying running shoes for older runners?
The first major factor to look out for is the shoe's cushioning. Foot elasticity and flexibility reduce with age, and wearing an uncomfortable shoe would injure your joints and muscles. Other important considerations are support, stability, comfort, and weight (both the runner's and the shoe's weight).
What are the best neutral runners for seniors?
Brooks Ghost or Hoka will be ideal shoes if you love running on neutral terrain. These runners have much of their cushioning on the heel, and they are also flexible and much lighter than their counterparts. However, they lack much arch support.
Conclusion
Being old does not mean you have to stop doing your daily runs. However, it is crucial to get the best running shoes for older runners. When choosing your shoes, pay attention to the cushioning, and the shoe should be able to offer you maximum comfort.
Check also our article about Top 10 Books Which Every Old Runner Needs.