Are you looking for a perfect daily trainer? Brooks Ghost 12 is a reliable choice as it features sufficient cushion and offers a highly responsive ride. You can use it for short, long, and fast runs.
The Ghost 12 running shoe has a sock-like fit and runs true to size. It is an update of the Brooks Ghost 11 with the most noticeable difference in its upper. The 12th edition features 3D printed overlays on an engineered mesh for a softer and secure fit.
Unlike most running shoes, the Brooks Ghost 12 does not require a break-in period. You start enjoying bouncy rides and soft landing immediately.
[wp-review id="2021″]
Brooks Ghost 12: The Perfect Shoe for Neutral and High-mileage Runners
This shoe is ideal for neutral and high-mileage runners looking for a smooth, lightweight ride without sacrificing cushioning. It is heavily padded and has a snug fit, thus keeping your foot stable and comfortable throughout your runs.
The Brooks Ghost 12 comes with a DNA LOFT and BioMoGo DNA cushioning to provide the needed softness underfoot and give the shoe a lighter feel. The cushioning offers the traction and flex needed for speedier, shorter distances and supports longer runs.
It is ideal for road running, the gym, cross-training, or everyday wear.
Since the Ghost 12 are neutral shoes, they are also perfect for a Supinator. They offer great support and prevents you from going overboard on the outside of your foot.
Brooks Ghost 12: The Perfect Shoe for Support and Responsiveness
If you are searching for a shoe with the right amount of support and responsiveness, you can try the Brooks Ghost 12. Whether you are a Ghost loyalist or a first-time buyer, you will love the bouncy responsiveness of this shoe.
No matter how your foot lands, the shoe has an integrated system of shock absorbers underfoot. As such, it cautions your every stride and gives you a smooth heel-to-toe transition.
Detailed Overview of the Features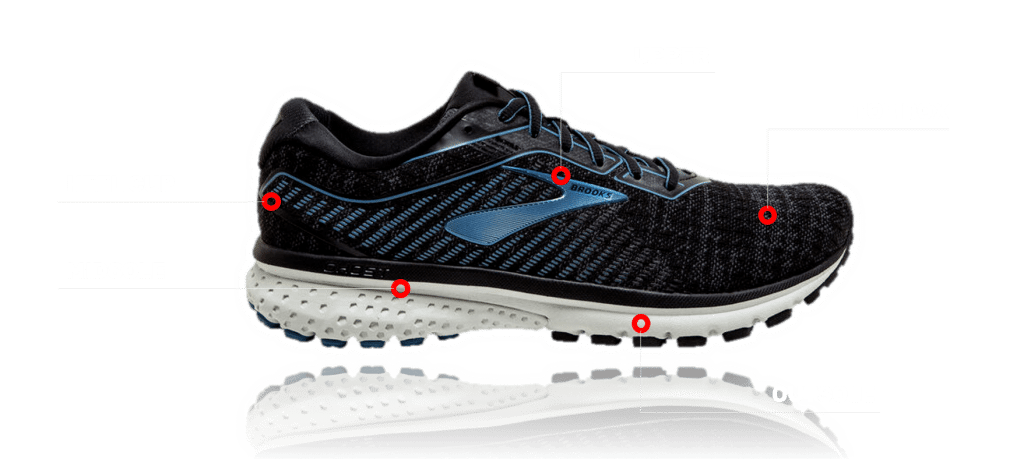 Comfort
Beneath the upper mesh, the shoe features a soft fabric lining. This lining enhances the comfort that you get from the shoe. In fact, it is possible to put on this shoe without any pair of socks.
The tongues and the collars also have padding, which adds to the comfort. The midsoles also have a DNA Loft material that helps to absorb shock. Consequently, your entire foot gets protection from any pain.
The shoe has cushioning covering the entire length of the midsoles, enhancing both comfort and protection. Further comfort is added by the DNA Loft, which shapes itself according to the contours of your underfoot.
Midsole
The midsole of this shoe is almost similar to that of its previous version, Ghost 11. It features the BioMoGo DNA foam, as well as a DNA Loft. These features offer you a cloud-like experience in your running experience.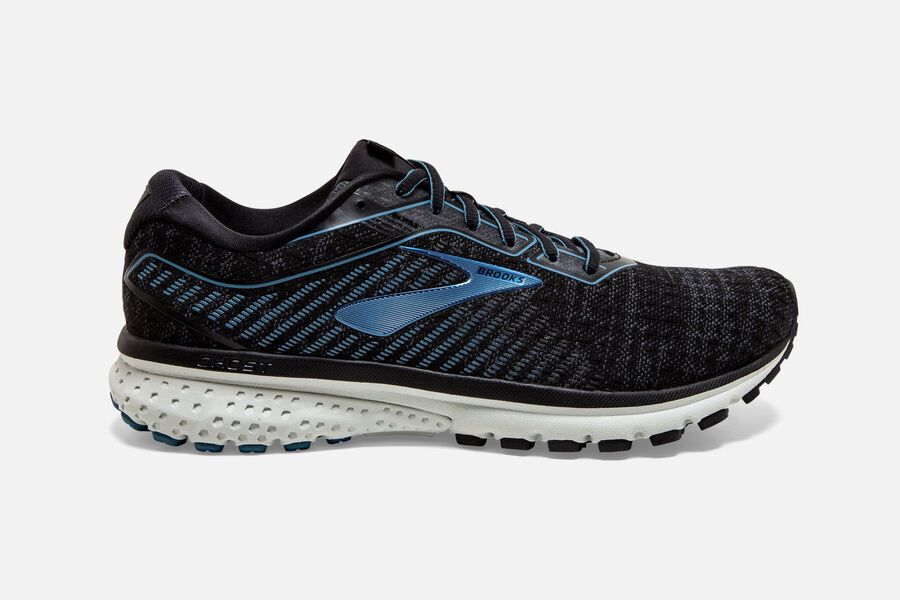 The shoe also offers you a soft ride. In spite of the high cushioning and weight, the shoe is very responsive.
Outsole
The outsole of this shoe is slightly different from that of the Ghost 11. However, every other structural component is just the same.
Almost the entire outsole of the shoe features a highly durable blown rubber that enhances the grip. However, this contributes to the much weight of the shoe.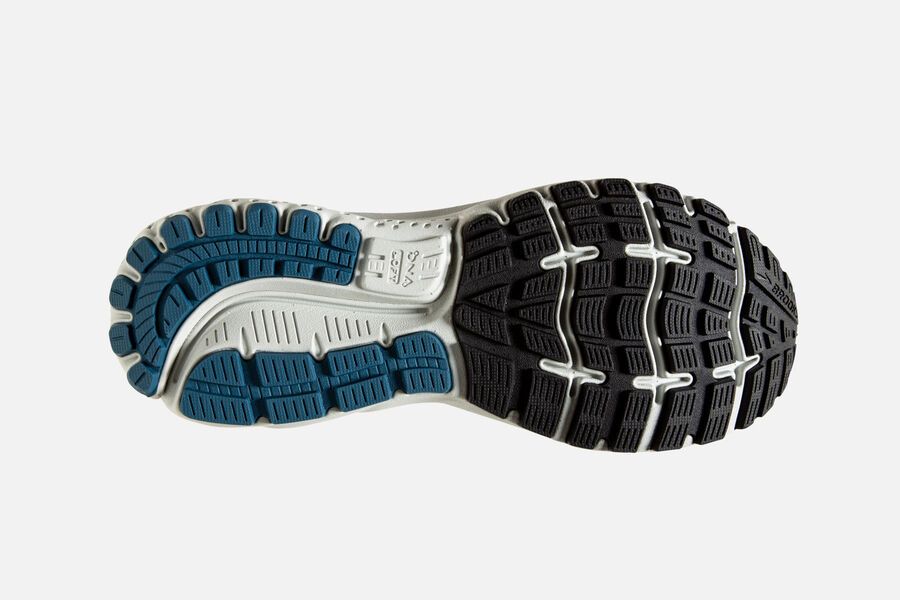 The outsole is also very durable. As such, the shoe is hugely economical compared to many others that have a similar price tag.
The forefoot outsole of this shoe features a segmented Crash-Pad system. This system is crucial in providing smooth toe-off and shock absorption with every stride you take. Consequently, if your feet feel tired, these shoes will feel great.
Upper
The upper of the Brooks 12 shoe is minimal. As such, it offers you a sock-like fit that is essential for the security of your foot.
It features 3D-printed emblematic overlays on its engineered mesh upper. There is no use of adhesives, glue, or any kind of stitching.
Moreover, the construction is high-quality and seamless, thus provides a balance of stretch and structure. What's more, the shoe's upper will give your foot a snug hug. The toe box is spacious enough to allow only enough wiggle room for your toes.
Heel Counter
The Brooks Ghost 12 features an updated heel counter. It comes with a material that is both soft and textured to hold the heel comfortably in place.
Thanks to the design, you can hardly experience any heel slippage or blisters. The shoe also boasts premium material for the tongue and the sock liner.
Alternatives to the Brooks Ghost 12
[amazon table="2030″]
What is wrong with the Brooks Ghost 12
Though this shoe is lighter than the previous Brooks Ghost 11, it is still heavy. As such, it may not be the best if you want to pick up the pace mid-run.
Frequently Asked Questions
Is Brooks Ghost 12 good for running?
Absolutely! The Ghost 12 is a reliable running shoe for all runners. It is highly-cushioned and responsive. It also runs true to size and has a sock-like fit making it an ideal daily trainer. You can use it for everyday walks, long runs, cross-training, road-running, or in the gym.
Is Brooks better than Asics?
Yes, Brooks Ghost running shoes tend to be more durable than Asics, thanks to their new engineered mesh upper. Asics, on the other hand, are more lightweight, but this compromises their durability.
Brooks is striving hard to create more lightweight shoes, as seen in their Ghost 12 model.
Why should I buy the Brooks Ghost 12?
The Ghost 12 running shoe has the right amount of support, cushioning, and responsiveness. The shoe is incredibly versatile, with a super smooth heel-to-toe transition for a smooth, bouncy ride. It is supportive enough for shorter, longer and faster runs.
Are Brooks Ghost good for Bunions?
If you are suffering from Bunions, the Brooks Ghost are ideal shoes to keep your feet comfortable as you run. The shoes are lightweight with plenty of cushioning. They are also ideal for people with wide feet, flat feet, and other foot-related pains.
Conclusion
In conclusion, the Brooks Ghost 12 is a very reliable sneaker for long-distance running and as a daily trainer. It will offer you a smooth and plush ride with every stride that you take.
The shoe is highly comfortable, thanks to the much padding and the DNA Loft material. Moreover, the blown-rubber material makes it very durable and enhances the grip.
The Brooks Ghost 12 is a shoe worth having as part of your running gear.
Related to this post