Under Armour Charged Assert 8 Review is a good-looking pair of kicks that rewards you with adequate cushioning and flexibility while running.
Perfect for neutral runners, the shoes boast comfort and complete breathability, so you can spend a lot of time running on the road without getting your feet sweaty.
Furthermore, the EVA sock liner improves comfort, and the shoe gives you a glove-like fit every time you put your tootsies inside it.
Lastly, Charged Assert 8 has a solid rubber outsole on the high-impact zone for excellent durability while running.
Check out this, Under Armour Charged Assert 8 review to know more about the shoe.
[wp-review id="1956″]
Under Armour Charged Assert 8: The Comfortable and Stylish Runner Shoes
Under Armour Charged Assert 8 is a pair of comfortable, lightweight, and stylish shoes designed for runners. The fine cushioning inside these kicks provides your feet with all-day comfort you need to run on a track or treadmill.
Designed specially to add comfort to the runner's life, the shoes were released in May 2019. Since the release Under Armour Charged Assert 8 shoes haven't seen any upgrades.
Who is Under Armour Charged Assert 8 for?
This pair of shoes is perfect for people that love running. Whether you are a casual runner, jogger, or looking for an entry-level shoe that supports your feet while running on a treadmill, these shoes should be your choice.
There is no huge difference between Charged Assert 8 available for men and women. The only notable difference is the weight due to variance in sizes.
Overview of Features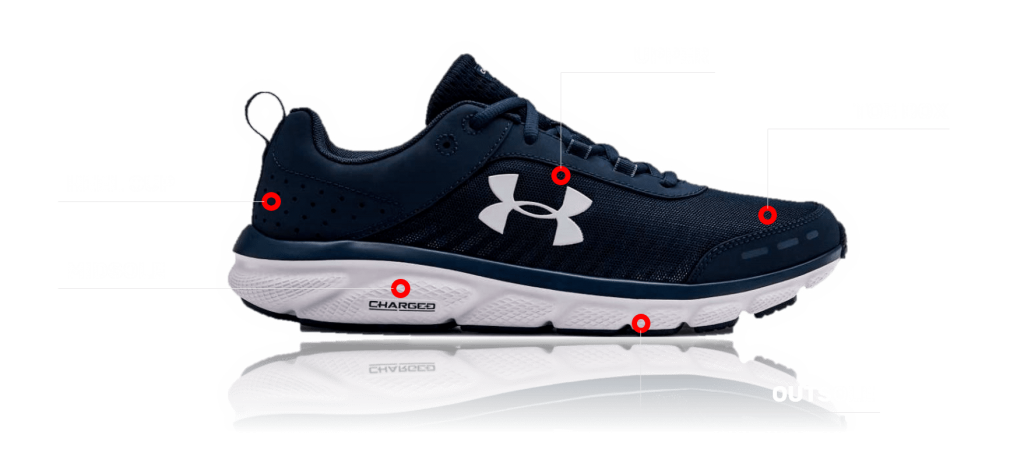 Outsole
Under Armour Charged Assert 8 has a solid rubber outsole that stretches to the sides to cover the high-impact areas. Moreover, it helps in better distribution of weight that assists you while running with great arch support.

The durable rubber outsole even safeguards you from slipping and rewards you with a superb grip on the road. The only downside of the outsole is the lack of grip on wet floors.
Midsole
With a molded foam midsole, Charged Assert 8 adds the right amount of comfort to your life. When you run, the foam absorbs the impact and enhances the comfort of your feet.
Under Armour has used Charged Cushioning that betters the comfort, absorbs the impact, and returns you the energy for reduced stress.
Furthermore, the midsole even reduces the stress on joints and feet, making running easier for you.
Upper
Made using lightweight mesh, the upper of these shoes allows a good flow of air. There is no need to worry about sweat or any foul smell even if you keep wearing the shoes for hours.

Furthermore, the porous mesh lets the air seep into the shoes quickly, so your feet remain dry and cool. You'll see the Under Armour logo stitched on the top of both sides of the shoe.
The only downside of the upper is it lacks promising durability.
Toe Box
Under Armour Charged Assert 8 is a pretty comfortable shoe, all thanks to the wider toe box. You don't feel the shoe is too tight or losing grip while running, as the toe box is specially designed to hold your foot provided you purchase the right size.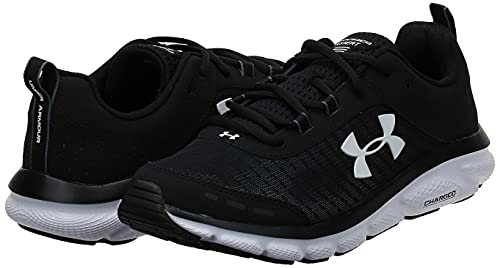 Moreover, the tox box feels padded and absorbs the impact from reaching your toes. I find the tox box of these kicks impressive, as running with them becomes more comfortable.
Heel Cup
Under Armour Charged Assert 8 have a heel cup that lets your feel sit comfortably for added stability. You will certainly feel that your heel is getting locked properly in place, and that reduces the chances of slips while giving you a better grip to run.
However, a handful of users reported feeling pain in the heel after using the shoes for a few months.
Breathability
Under Armour Charged Assert 8 gets 10/10 when it comes to breathability. The upper, synthetic mesh lets the air pass quickly, keeping your feet dry and cool at all times.
Tutorial
Want to see how Under Armour Charged Assert 8 looks on the feet? Here's a tutorial video that tells you everything about the shoes and the comfort level you can expect.
Alternatives
Need something different from Charged Assert 8? Here are a handful of alternatives you need to consider:
[amazon table="1959″]
What is Wrong with Under Armour Charged Assert 8
These shoes from Under Armour are highly comfortable, have a wide toe box and bigger heel cup for better capacity. However, some users aren't happy with the durability.

Some users reported that the outsole pasting comes off after a few months. The reason behind this issue is using the shoes on not-recommended terrain.

Under Armour Charged Assert 8 aren't ideal for a track, and using the shoes for a marathon can result in the outsole coming off.
Frequently Asked Questions
How wide are Under Armour Charged Assert 8 shoes?
These shoes from Under Armour have regular width, i.e., D. Just go with the right size to ensure that the shoes fit you perfectly.
Can you wear these shoes for walking or jogging?
Yes, you can use Under Armour Charged Assert 8 while walking or running. As the kicks have molded foam midsole to absorb the impact, you get great comfort while jogging or running.
How good is the arch support for people with the flat foot?
Under Armour Charged Assert 8 have excellent arch support. However, the shoes aren't specifically designed for people with flat feet.
You can consider ASICS GEL-KAYANO LITE as it is a good shoe for folks with a flat foot issue.
Conclusion
With this Under Armour Charged Assert 8 review, you will get comprehensive information about the shoes. From midsole to upper material and heel cup, I've tried to highlight almost everything you need to know before purchasing a pair of kicks.
Lastly, make sure to check the size charge in order to get a snug fit with these shoes.
Related to this post