Are you looking for minimal weight shoes that are highly ideal for use on the road to buy? The New Balance 680v6 review running shoes could be your best option. They are highly comfortable to wear.
Besides, they have a stylish design that might attract any runner looking for additional benefits besides protection and performance.
These are also your ideal choice if you are looking for shoes that attenuate shocks without sacrificing style. In this review, we bring to you all you need to know about these shoes.
[wp-review id="1484″]
The New Balance 680v6 Review: The Perfect Fit, Comfort, and Style
These not very wide New Balance running shoes have a snug fit size, since their upper comprises an engineered mesh foam with a no-sew design. Their midsoles also have excellent shock-absorbing materials for great comfort. The no-sew design and 3D Printed "N" logo give them a stylish look.
The New Balance 680V6: The Perfect Shoes for Regular Runners
Since they have impressive traction on wet and dry surfaces, these shoes could be the best for regular runners. They attenuate shocks and allow you to have a soft landing while doing your small runs on your favorite road.
They also ensure that you have have high stability level. Moreover, they feature a durable base for leisurely jogs or intense runs.
Very good running shoes for old runner check this article: Best Running Shoes for Older Runners
Detailed Overview of the Features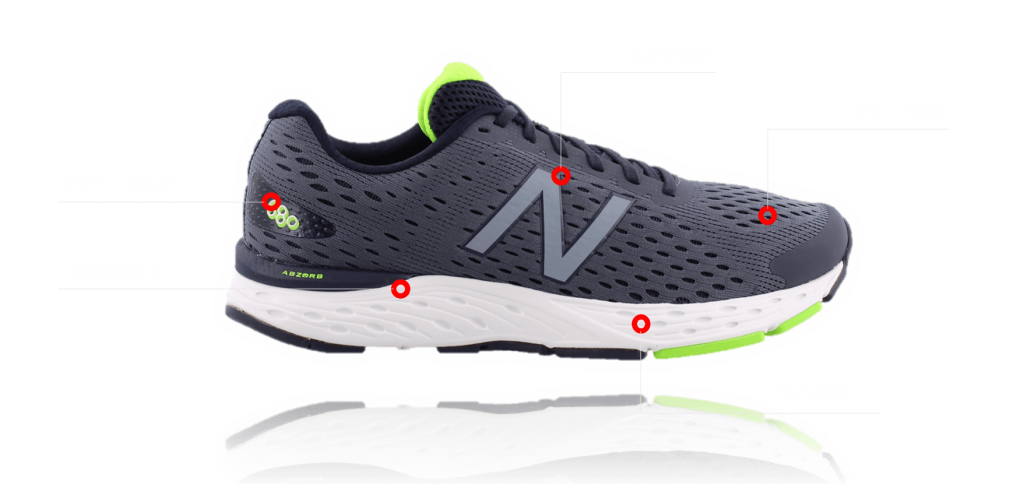 Outsole
This minimal weight 5-stars shoe uses blown rubber outsole. What's more, the outsole material has new tread patterns for impressive traction of wet and dry surfaces. The outsole material also has wide lugs around the midfoot section to provide extra traction on different surfaces.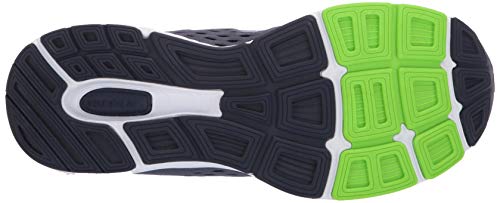 New Balance has redesigned the outsole to provide great cushioning to any runner. The decoupled heels' drop is helpful in providing a soft landings during runs.
The blown rubber material enhances the durability of the outsole for extended performance and protection.
Midsole
The midsole is where this great shoe gets better. The midsoles have a lightweight injection-molded EVA foam for great underfoot cushioning. The lightweight cushioning design foam ensures nothing weighs you down during your road or track runs.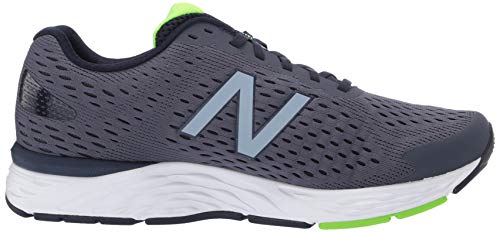 Customer reviews from verified purchase show that the foam material covers the entire size of the midsoles. This can only mean you will get great underfoot protection from shocks. The midsoles work hand in hand with the outsoles' decoupled heel's drop to cushion you from impacts and shocks.
Customer review from verified purchase also show that the midsoles also have yet another shock-absorbing material – the ABZORB technology. The ACTEVA material, provides good cushion and flexible support to wide feet. The midsole units have good cushioning materials to protect you from impacts during runs.
Upper
A comfortable engineered mesh upper dominates these trainers. However, other materials are also found on the uppers as well.

The uppers also have good 3D print overlays to bolster them. The overlays are also helpful in protecting the mesh foam from scratches and other abrasive elements on the road or track.
This minimal weight 5-stars shoe also has a traditional lacing system that is helpful in customizing the fit. The shoelaces are flat to reduce the pressure on top of your feet. If you add the flat shoelace design to the padded tongues, you can be sure that you will get an overall comfortable feel throughout the ride.
The upper mesh foam has a no-sew design for an extra comfort feel and styling. When the upper's design comes into play with the molded sock liners, you will have one of the coziest in-shoe chambers.
Heel Counter
These 5-stars trainers have heel counters that properly lock down your heels. Therefore, your heels will not wobble inside them. This is essential in reducing internal slip that could reduce your performance on the track.
The counters also work hand in hand with the lacing system to give you proper foot lockdown. They help you have a well snug fit wear experience for a heightened performance out in the field. The counters also protect your heels from objects like stones that might hit during your runs.
With plenty of benefits from the shoes' counters, this New Balance shoe remains one of the best pair of running shoe for people with a bad knee or plantar fasciitis.
Breathability
Overall, the upper unit of these trainers is more than 90% engineered mesh foam. The upper mesh foam has exceptional ventilation to allow plenty of fresh air to circulate within the chambers. The result is freshness all day long!
The ventilations are on the toe box and lateral sides. The placement of the ventilation is strategic to maximize the cooling effect. Your foot will remain dry and properly locked down for a great experience during your runs.
Support
This 5-stars New Balance running shoe has plenty of support in their design. The uppers have 3D Print overlays that are helpful in supporting the foot. The heel counter not only properly locks down your heel but also supports it for impressive performance.
Besides, the collar has sufficient padding for extra support. The padded tongue also comes in handy to provide additional support to the feet during energy-taxing small runs. The sock liners also give the user some underfoot support.
If your arch needs support, these New Balance trainers are up for the challenge. Support might be what you need in running trainers sometimes.
Durability
If you want to buy durable shoes to run in, look no further. These trainers last a longer time than most of your fitness running trainers. You will like the high durable materials go into their construction.
First, the blown rubber outsoles are highly durable. This is deliberate to ensure they give you an extended impressive performance. They provide excellent traction and protect your underfoot from the abrasive roads for an extended period.
The engineered mesh also has overlays that protect them from scratches. The ABZORB technology and ACTEVA materials are also durable for extended cushioning.
Alternatives
[amazon table="1495″]
What Is Wrong with These Shoes
Some 4-stars customer review from verified purchase shows that these trainers aren't true to size. Customers found that they run small, hence not very wide.

They may not be as large as they look when you buy them. some customers who bought large ones found them narrow. You will therefore need to confirm the size, whether narrow width or large width, as you buy.

Moreover, other 4-stars customer review shows that the quality isn't satisfactory since the overlay logo comes off after a few runs.

Some runners also found that the shoes are narrow in size, especially around the toe box. Those are the few areas where customer reviews from verified purchase show dissatisfaction.
Frequently Asked Questions
Are the New Balance 680V6 stability shoes?
These pair of running shoes provide ankle stability with their padded ankle collars. The heels' counter also stabilizes your heels for enhanced performance on the road. The sock liner also increases the stability of your arch support.
What does the "V" stand for in the New Balance shoe product line?
The "V" designates the version of the model. In this case, the "V" represents the version of the New Balance 680 shoe model. Right now, the latest version is the New Balance 680V7.
Are these New Balance shoes better than Nike?
First, Nike running shoes are better for covering small runs or short distances. However, those from New Balance are ideal for longer distances. Besides, they have better cushioning that makes them suitable for marathons.
Can I run in New Balance 680V6 shoes if I have a bad knee?
These trainers have impressive cushioning materials in their midsoles. The ABZORB and ACTEVA materials excellently attenuate shocks.
Conclusion
In conclusion, this review shows you that the New Balance 680V6 shoe has an appealing style. The upper unit is breathable and helpful in keeping your feet fresh throughout the jogging exercises.
You will like that the materials are of high quality, and can serve you for an extended time.
Overall, they're an ideal option for any regular runner who is looking to enhance their daily exercise. You may go ahead and buy your size for they come at an affordable price