The New Balance 990v5 is undoubtedly a premium shoe design. It is a significant improvement from the previous versions of the '80s.
This shoe comes in a great style and offers unprecedented comfort. What's more! This highly rated shoe doubles as both a running shoe and everyday footwear.
In this review, we will give you an in-depth analysis of this stylish and quality sneaker. Read to the end and get to know why this shoe stands out.
[wp-review id="2044″]
New Balance 990V5: The perfect close fit, stability, and comfort
The New Balance 990V5 comes fused with excellent cushioning and stability. The shoes are highly stable and offer a close fit. They feature a secure fit and padding that ensures that the back of your ankle stays clear from frequent rubbing.
Their versatility and comfort are at another level. Many people have found them the go-to shoes for comfort.
New Balance 990V5: The Best shoe for running and regular strolls
The New Balance 990V5 is among the best shoes for athletes. It offers you quality, comfort, durability, and stability.
Moreover, this is a good shoe for taking your daily walks or exercises. With this shoe, you can leisurely take your walks in comfort.
Detailed Overview of the Features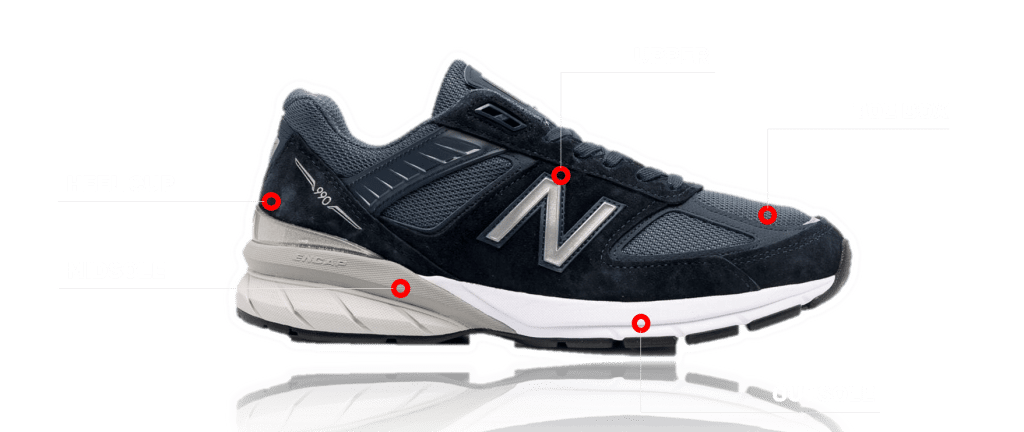 Outsole
The 990v5 running shoe, like many others, has a rocker bottom. However, it differs from the rest in that the rocker bottom is not as pronounced as in other shoes.

The New Balance 990V5 features a very thick rocker bottom, which is also very tough. Consequently, it offers you the ultimate protection from whatever ground that you are running on.
The thick rocker bottom also helps to put a spring in your step. The shoe also features thin toes that ensure your toes stay close to the ground.
Midsole
The midsole technology of this shoe aims at offering you every comfort and stability that you require. The shoe will hold your feet tightly but comfortably so that you do not feel crushed.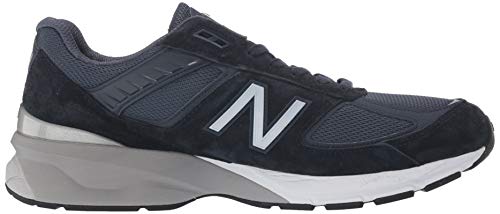 The shoe features a highly padded collar, which in turn makes it excessively cushioned. Thanks to the cushioning, every sensitive part of your feet will enjoy some soft cushioning.
The padding also extends to the tongue. As such, you need not worry about friction on the top of your foot due to the tight laces. The padding has ultimately taken care of this, and your top foot stands protected.
Upper
Unlike many other running shoes, the New Balance 990V5 features full leather for looks and a full mesh upper for breathability.

The shoe's toe box has three mesh panels, plus an additional one on either side higher up. Consequently, the shoe offers your feet not only excellent breathability but also an air of sleekness.
Also, between the mesh, this shoe features pigskin suede leather. As such, it does not look as cheap as many other shoes.
The suede in this shoe is a genuine suede, not a fake one. This suede helps to add to the air of sophistication that comes with this shoe.
Breathability
The New Balance 990v5 has undergone various modifications from the previous versions of 990V4. It features both full leather and a full mesh upper. These modifications have helped to boost the breathability of this shoe.
God breathability ensures that your foot has enough air. As a result, it reduces the risk of bacterial infection, reduces odors and discomfort.
The shoe also has mesh panels on the toe box and on each side higher up. These features result in excellent breathability.
Support
With the New Balance 990v5, you need not worry about stability. This shoe features additional padding in the heel.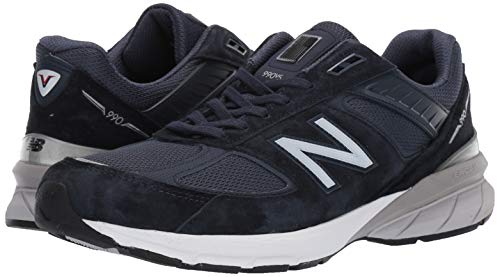 The extra padding does not make the shoe unstable in any way. On the contrary, it combines with ankle-area power straps to offer you additional lateral support.
Lateral support is critical, especially if you are also looking for tennis shoes. These shoes will still serve you well before you acquire tennis gear.
The shoes also feature a combination of ENCAP PU ring and an EVA core. These features ensure you have heel stability.
Moreover, the midsole features the ENCAP technology, which helps to support the feet and enhance durability.
Fit and Sizing
The New Balance 990v5 runs true to size. However, its toe box is relatively wider than the previous versions. As such, you will have a lot of wiggle-room.
In case you may not like the extra room, you can take of it by wearing thicker socks. Thicker socks will not only help to compensate for the bigger space, but they will also absorb sweat from your foot.
The shoe sizes for fit range from 7–14 for men, which also come in half sizes to 12.5. However, note that you can get narrow options for Sizes 7 and 7.5. You can also get options of X-Narrowup to XX-Wide.
For the women, you can get options ranging from narrow to X-wide sizes for 5–13. There are also half sizes up to 11.5.
Alternatives to the New Balance 990V5
[amazon table="2050″]
What is wrong with the New Balance 990V5
Although these sneakers have excellent soles' traction, they are only suitable for roads and tracks. If you try to use them for hiking, the soles fall off or wear out very fast.
Frequently Asked Questions
What makes New Balance shoes so expensive?
New Balance shoes feature advanced technology and are incredibly comfortable. These features make them quite expensive.
The company pays particular attention to the needs of its customers. Moreover, the shoes are also very durable. The culmination of all these drives the prices very high.
Do these New Balance 990V5 shoes run big?
The New Balance 990v5 does not run big. They may, however, feel like they run big because they have a wide-fitting toe box. Many customer reviews also attest to this.
Are these New Balance shoes ideal for running?
The New Balance 990v5 are good shoes for running. They offer great comfort and are suitable for stability. Moreover, they are highly breathable, ensuring that your feet do not sweat.
Apart from running, these sneakers are also ideal for use as everyday wear. You can use it as you take your daily walks or as you do your exercises.
Conclusion
The New Balance 990v5 is undoubtedly the best shoe among the New Balance 990 series. It stands out thanks to its advanced features.
The additional heel padding combines with ankle-area power straps to offer you great lateral support. As such, you will feel fully supported.
The full leather and full mesh upper features enhance the shoe's breathability. Moreover, the thick rocker bottom offers you ultimate protection irrespective of the ground you are using it on.
If you are a fan of New Balance, this shoe is worth trying out. It is worth your money.
Related to this post