Saucony is famous for making top-notch running shoes. The Saucony Omni 19 running shoe is one of their highly-rated shoes in the United States and beyond with numerous 5 stars.
This stability shoe is ideal for overpronators as it can put in long mileages. It comes in a design that helps in providing unbeatable comfort.
Like most Saucony shoes, the Omni 19 packs cutting edge features. Take the Omni ISO FIT, for instance. This feature gives the shoe a generous fit, ensuring that it fits true-to-size for a variety of feet. It also has an engineered mesh upper, 8 mm heel-to-toe drop, and a spring-like feel.
The Saucony Omni 19 doesn't skimp on support, flexibility, and comfort. Thanks to its Omni ISO FIT construction and other top-notch technologies. This review has full details about this product, read on.
[wp-review id="1843″]
Saucony Omni 19 Review
The Omni ISO 19 is an icon in Saucony's stability lineup. Besides being comfortable, this stability shoe is reliable as well. It's an ideal product for runners who experience overpronation during road running.
Impressively, the shoe boasts a complete overhaul, from its outsole to the upper. It comes with a new FORMFIT upper replacing the old ISO FIT. The change was a result of size issues in the previous versions.
The shoe fits true-to-size irrespective of the width or size of your foot. It has two varying sizes in one, for instance, size 9 and size 9.5. As such, it is easy to select size that matches your actual foot.
The outsole and midsole also have their improvements. Unlike the previous models, the Omni 19 includes the all-new high-quality PWRRUN foam. With this, the shoe achieves a softer and springier underfoot cushioning.
According to many customer reviews, the price of Omni ISO 19 is great for a low-budget runner. You can purchase any neutral color of your choice without compromising on quality or energy return of the shoe.
Who is the Saucony Omni 19 ideal for?
The low-price Saucony Omni 19 is a great pick for runners who suffer from moderate to severe overpronation. It includes extra padding that effectively protects the foot collar area.
Consequently, it fixes the ankle during impact by keeping it from rolling too far inward and downward. Its conventional upper mesh and middle area material also helpful in correcting the position of your foot.
It also has an 8mm offset, a TPU heel counter, a FORMFIT surround and a tri flex outsole. As such, the shoe is highly durable, with streamlined support and 3D comfort. You can run in it daily and is also good for marathons and long-distance running.
For those runners looking for support, the OMNI 19 will offer you full miles of comfort as you run. It is also ideal if you need stability, great fit, and more spring.
Detailed Features of the Saucony Omni 19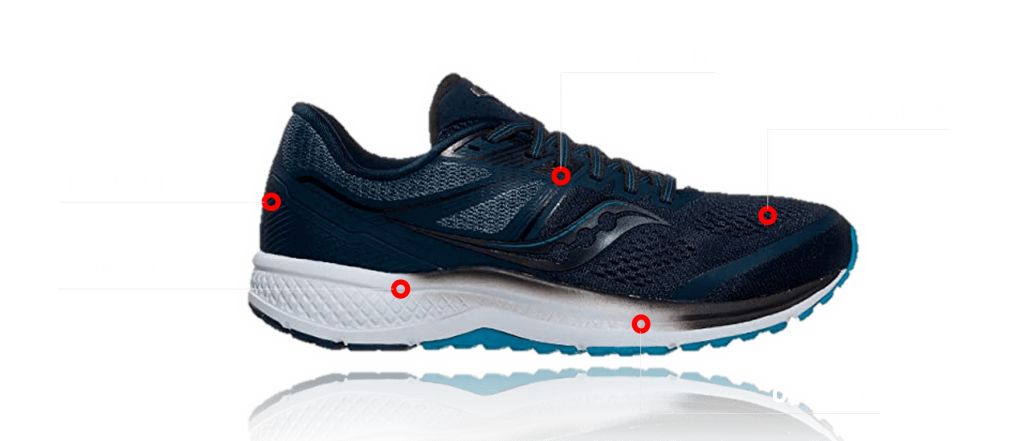 Midsole
The Saucony Omni 19 features the new PWRUN, EVA, TPU blend on the midsole. These features are helpful in achieving a softer feel with a desirable degree of bounce. As a result, this product has a high review rating with many positive customer reviews.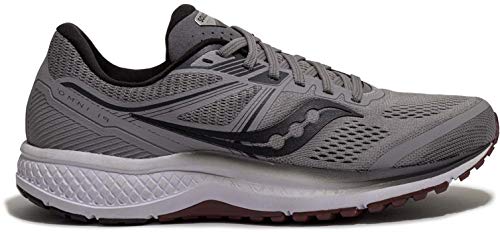 This low-price shoe boasts a total stack of 26mm forefoot and 36mm heel. With such width, you can be sure to get a comfortable ride in every run.
It also doesn't entirely lose the bouncy, bottomless feel as its counterpart, Triumph 18. Instead, the Omni ISO 19 continually displays a decent level of flexibility. Thanks to the thick yet soft and more segmented outsole.
The midsole and outsole combine to deliver consistency and ensure a smooth ride, especially for average to more extended miles.
Some runners fret that the firm medial post would hinder the smooth feel of the softer PWRUN. Fortunately, the medial post proves to be very discreet. You will still feel it but not like in most classic support shoes.
Outsole
The Saucony Omni 19's triflex outsole is much the same as that of the previous Omni ISO 2 and Omni 16. It features two different firmness rubbers that have highly boosted its review rating.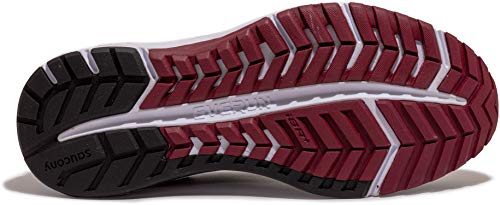 Firstly, it includes black durable XT 900 carbon rubber. You'll get this rubber along the medial side and at the rear. The other part features a soft to pressing IBR+ blown rubber.
The black and thin strip of firmer rubber on the heel and medial side ensure durability and support. Thanks to this material, you'll enjoy consistent landing. Even with the medial post present, you won't experience a severe medial side feel because the material ensures a smooth transition.
There is, however, a slight hitch when transitioning off the midfoot. Thus, more flex is necessary there. Segmenting the black medial side rubber length or instead reducing it could extend the flex.
The IBR+ blown rubber includes excellent segmentation. It's thick as well to ensure a comfortable and stable flex. At the same time, it provides easy toe-off by having the flex point pretty far frontward.
Durability wise, the Saucony Omni 19 is nothing less impressive. Therefore, you can use the shoe to run for long miles.
Upper
Similar to the previous renditions, the Omni 19 have the ISO fit construction. Moreover, it comes with a new synthetic upper mesh.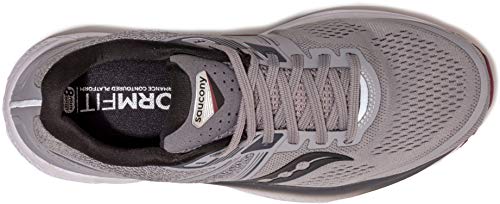 Also, you cannot fail to note the many venting holes. As such, the shoe delivers excellent breathability, thus keeping your foot free from soaking with sweat. It is an ideal purchase for summer jogs. Besides, the mesh material is plush, adding to the shoe's overall comfort.
The tongue cushioning is also plush and somewhat thick. Moreover, it comes with a gusseted design with part of it attaching to the upper. It perfectly sits below the laces. Hence, you won't have to keep readjusting the width or size.
Fit
The Saucony Omni 19 boasts a true-to-size Omni ISO fit. The shoe's toe box is accommodating with ample real estate. The shoe comes in diverse sizes, making it possible to customize your purchase based on your preferred width.
The heel, on the contrary, is relatively rigid hence not flexible. For this reason, it locks the back of your foot in place. Overall, the Omni 19 fits similarly as a glove.
Ride
The Omni 19 running shoe delivers an incredibly soft ride. It provides outstanding performance when running easy and during slower and longer runs.
The shoe's offset (8mm) and stack height will have you lifting off and landing on your midfoot. Also, the Omni 19 is quite heavy. As such, it's more of an everyday driver shoe and not an ideal one to wear for workouts.
Alternatives to the Saucony Omni 19
[amazon table="1849″]
What is wrong with the Saucony Omni 19?
Generally, the Saucony Omni 19 stability running shoe is quite impressive. However, it has its share of downsides, which is the case with most products.

Although the shoe fits true to size, some runners find the shoe's toe box to be a bit narrow. A narrow toe space can make the shoe uncomfortable, especially if you have a wider than average foot.

Secondly, a couple of wearers find the Omni 19 a tad bit constricting. As a result, it may restrain their foot motions.

Another downside of Omni 19 is its color variations. It only offers three colors from which you can select.
Frequently Asked Questions
Is Saucony better than Brooks?
Saucony and Brooks running shoes, in most cases, have almost the same comfort level and fit. Brooks, however, is renowned for making shoes with a bigger toe box. This feature is a steal for people with wide feet.
On the contrary, Saucony make shoes that have a more responsive and snugger size. Hence, it's an ideal brand for runners who like their feet locked in.
Is Saucony better than Asics?
Saucony is more innovative than most brands in the market. Without a shadow of doubt, the brand is genuine, with unique shoe components. It may, therefore be a better brand for runners who like trying out new features. Also, most Saucony shoes are highly breathable and lightweight. Thus, they are ideal for runners who are after speed.
Asics also has lightweight and reliable shoes with slightly slanting soles. Besides, the brand also focuses more on cushioning and lessening impacts.
Is Saucony better than Nike?
Are you a runner on a tight budget? If yes, I recommend Saucony. The reason being, they make a wide variety of remarkable runners at a reasonable price tag. Nike is also a good brand but their products are a bit pricey.
However, if you have a few bucks to spare, you can consider a pair of Nike shoes. They deliver outstanding quality and performance and you can use them for longer mileages.
What is the best Saucony Shoe?
There is no definite answer as to which is the best Saucony shoe. The reason being, all Saucony runners have something great to offer and are ideal for different types of runs. Below are some of the best Saucony models and their best use.
Saucony Ride 13 – Best for everyday workouts.
Saucony Triumph 18 – Best for comfort
Saucony Endorphin Speed – Best for speed runs
Saucony Endorphin Pro – Best for long runs
Saucony Guide 13 – Best for overpronators
Conclusion
Are you looking for an adaptable and reliable daily trainer? You can't go wrong with the Saucony Omni 19. Thanks to its excellent balance of stability and responsive cushioning.
The shoe's versatility is also worth mentioning. Unlike most trainers, the Omni 19 features a revamped foam. Hence, it becomes responsive to facilitate quicker runs. At the same time, its soft nature makes it ideal for longer excursions and recovery runs.
Apart from its comfortable cushioning, this stability running shoe also boasts a smooth energy return. Its engineered mesh upper makes it a steal for overpronators. Consequently, Saucony Omni 19 is one of the best-selling shoe in the United States. Most of its customer-rating reviews are 4 stars and 5 stars, with zero 1 star and 2 stars reviews from customers who purchased and used it.