As a runner, you subject your hip joint to a lot of stress and impact. This could eventually lead to hip pain. Finding the best running shoes for hip bursitis can be a huge task.
The type of running shoes you wear, among other factors, could be the cause of hip pain.
Do not allow this situation to stop you from pursuing your running dream.
In this article, I will look into this condition in depth. I will also review for you some of the best shoes in the market to help you overcome hip pain.
What Causes Hip Pain among Runners
Hip pain has several different causes. They include:
Rheumatoid arthritis
Pseudo gout
Stress or overuse of the hips
When legs have an uneven length
Injured hips
Diabetes
Problem of the spine
Bone spurs
Bacterial infection
Improper form while doing weight training exercises such as squats
Running on hard or uneven surfaces
Overstretching a muscle/tendon beyond its normal range of motion
How to Prevent Pain
According to everydayhealth.com, more than 76 million Americans report having experienced a form of pain. Among these are those who have suffered from hip pain.
Statistics also show that about 15 percent of people aged 65 or older suffer from hip pain. Again, about 10 million people suffer from osteoarthritis, which leads to hip pain.
[visualizer id="2559″ lazy="no" class=""]
To prevent hip pain:
Avoid overly lifting your leg while you sit or lying down so as not to put pressure on the sciatic nerve.
More sun on your body can be a great remedy for chronic pain in the hip area, but training in the sun also causes your body to generate heat (which can irritate your hip joints).
Avoid speeding up or decelerating too quickly as this may cause your hip and knee joints to overwork and worsen the pain.
Keep your stride and stride length in check. Low-effort strides, heel touches, long strides, or sprinting in place can cause your hip and knee muscles to overwork, causing both short-term pain and potential long-term complications.
Do enough warming up – Pre-run warm-up and stretching post-run cool-down exercises.
Wearing a good pair of running shoes can prevent or help you get rid of your hip pain.
Comparison Chart for Best Running Shoes for Hip Bursitis
ASICS Gel-Quantum 360 Knit 2 – Best Overall
The ASICS GEL-Quantum 360 is likely to be Asics most cushioned shoe.
It serves well as a daily trainer and offers a soft ride throughout the entire footstrike.
The midsole boasts a "360 Degrees" GEL Cushioning. With this cushioning, you will enjoy great comfort and support.
The GEL cushioned midsole combines with a FluidFit™ seamless upper to offer you a neutral performance.
The GEL cushioned midsole also provides a smooth ride and excellent shock absorption.
If you a marathon runner, you will also like the outsole. It comes with the highly durable ASICS High Abrasion Rubber (AHAR).
Another feature that comes with these shoes is the 10mm heel-to-toe drop. This allows you to feel the road more.
The FluidFit™ seamless upper is of lightweight synthetic material. The material is firm, soft, and comfortable.
The seamless mesh will also offer you a snug and secure fit. As such, you will not experience any hot spots or irritation.
These lightweight shoes also feature a heel clutch that will keep your foot securely locked in place.
The heel counter also provides stability and security during each run.
The shoes also has a removable ComforDry X-40 sockliner. This feature minimizes the growth of microbes in your shoe.
However, one major downside of these shoes is that it is relatively pricey for many runners.
---
ALTRA Escalante 2 – Best for comfort
The Altra Escalante 2.0 is among the most popular of Altra's road shoes.
These road-running shoes have a high rating thanks to its supreme comfort.
The sole of these running shoes is pretty much the same as that of the previous version.
It is made of Altra's FootPod Technology.
This technology ensures that the shoes mimic the bone structure of your foot.  As such, the shoes can bend and flex in tandem with the bending of your foot while running.
The midsole features the proprietary fresh foam blend. With this fresh foam, you get a comfortable ride that entails a bit of springiness.
The Altra Escalante features the EGO foam, which enhances softness and springiness. It also gives the shoes a smooth ride and makes sot very comfortable.
Although the shoes are relatively light, I found its sole very durable. The shoes held up quite well for many miles on the road. It hardly lost any springy feel.
The shoe's upper is one of the departing features from the previous version. The upper is fully knit upper and makes the shoes feel more like a sock.
Again, the upper of the Altra Escalante 2 offers you extra structure and support to the foot.
The upper material also flexes and bends effortlessly to offer you a snug fit. It, however, does not make the shoe restrictive.
I did not experience any rubbing spots when using the shoe.
The only drawback I fund with the knit construction of the upper is that it does not offer much barrier to water. If the shoe gets wet, your feet will also get wet.
However, I can't fail to mention that this shoe is highly breathable.
---
Brooks Adrenaline GTS 21 – Best for Stability
The Brooks Adrenaline GTS 21 cuts it among the best running shoes for hip pain. It features a mesh upper that helps it slay light. And its design delivers lots of padding throughout the shoe, making it incredibly comfortable.
Being a stability shoe, any runner will love its guide rail system. This feature helps stabilize your body when running without putting any pressure on your arch. As such, the shoes are good for arch support. Its heel collar also incorporates extra cushioning that prevents rubbing on your ankle.
Another significant advantage of the Adrenaline GTS 21 is the size of the toe box. While running, your toes have ample room resulting in a perfect overall fit.
The upper features a lightweight mesh, which keeps your feet fresh and cool. Yet, the shoe still delivers a lot of support throughout. This helps tremendously in relieving hip discomfort.
Thanks to the shoe's structural design, it practically relieves tension on your knees. Even when running longer distances, the GTS 21 continues to provide utmost comfort and reduce stress. While still ensuring supreme stability, this running shoe also works to provide a responsive rebound.
About its appearance, the lightweight Adrenaline GTS 21 is a stylish sneaker. It sports a fashionable look without having to compromise its comfort.
And its rubber sole plays a significant role in this.
---
ASICS Gel-Kayano 26 – Best for Traction
If superb heel support is what you are after, ASICS Gel-Kayano 26 fits the bill. Remarkably, it exhibits the best use and application of new technologies.
The use of Flytefoam in the midsole is the most notable feature. This component provides better responsive and adequate cushioning. At the same time, it makes the Kayano 26 very light while making the shoe more durable.
It then incorporates a dual-layered foam extending from the heel to the midfoot. With a dense midfoot and a softer heel, it delivers better stability making it ideal for overpronators.
Underneath the heel and forefoot, the Kayano 26 features Gel cushioning. Through this cushioning, it delivers extra comfort while enhancing the shoe's shock absorption capability. It then includes a TPU material beneath the arch, which practically increases torsional stability and rigidity. For that reason, it is an ideal running shoe for hip pain.
The shoe's outsole incorporates two types of rubber; the blown rubber and the AHAR rubber. ASICS uses the blown rubber on the forefoot.
The AHAR rubber, on the other hand, is present in high-impact regions and the heel.
The outsole also includes the Guidance System line running from the heel although to the forefoot. Through the present forefoot flex grooves, this running shoe achieves excellent flexibility and a smooth transition. The shoe then boasts impressive breathability, thanks to its engineered mesh upper.
---
Brooks Ghost 13 – Best for Breathability
The Brooks Ghost 13 running shoe is nothing less a reliable rock-solid daily trainer. Its lush padding plays a primary role in ensuring a comfortable run. And for this good reason, we include it among the best running shoes for hip pain.
The soft mesh upper is one appealing feature of the Ghost 13. It keeps your feet fresh and cool when running and doesn't detract from the shoe's supportive structure in any way. Even after a lengthy run, you'll like how much steady the shoe remains. Regardless of how far you go, its padding remains comfortable.
Another nice feature is the Ghost 13's sole unit. It has a grippy nature that helps the sneaker attain excellent traction. And with its impressive flexibility, expect nothing but natural and smooth runs.
The shoe's style and design are attractive and unique as well. Being the well-made shoe it is, the Ghost 13 is sure to last. You'll also appreciate its responsive sole and top-quality materials, which make it highly versatile.
However, the Brooks Ghost 13 may feel too wide if you are a runner with narrow feet. This can be a problem for runners who want to feel their heels locked in. Luckily enough, the Ghost 13 is now available in a narrow variant for such runners.
---
Saucony Ride ISO 2 – Best Durability
The Saucony Ride ISO 2 is a reliable solid running shoe for a neutral runner. Its upper features a knitted fabric around the toe box to enhance its breathability. Besides offering comfort, it also delivers a locked-in feeling giving you a snug fit.
The shoe also features ISOFIT technology, which enhances the trainer's overall comfort. It includes subtle changes from its previous model, which bring about extra weight.
The Ride ISO 2 then features an EVA midsole which is practically firm. And it also includes a soft EVERUN top sole. With these materials, the shoe achieves a plush and comfy feel.
The outsole incorporates a grippy compound, and the forefoot includes a new crystal rubber. Through this, it ensures excellent traction and durability. Still, on the outsole, the TriFlex grooves help attain impressive flexibility.
Further, this running shoe boasts an 8mm offset. In other words, it is not too stacked up, meeting the preference of most runners. It's also a very responsive trainer making it ideal for speed work. You can also expect this shoe to last, thanks to the premium materials.
---
Saucony Hurricane 22 – Best Snug Fit
The Saucony Hurricane 22 Running Shoe is an ideal pick for runners after ultimate comfort. The most notable enhancement in this sneaker is the plush cushioning. Besides ensuring comfort, the shoe's padding also delivers effective shock-absorbing protection from the ground.
You'll also like Hurricane 22's outsole. The reason being, it boasts a broad structure that is useful in providing a nice rebound.
Its heel then has a rocker shape that works to optimize your gait. This is helpful to people expecting to reduce hip pain.
Even so, you need much more to protect your IT band. A strong sole is perfect, but you also need sufficient support to stabilize your running. Fortunately, the Saucony Hurricane 22 is highly supportive, hence qualifying among the best running shoes for hip pain.
We also like that Hurricane 22 features Saucony's PWRRUN+ cushioning system. The padding is more than just a pillow for the feet. It also helps cut down excess weight present in prior versions.
You may experience some slight fatigue during long runs. Also during you may find the shoe to be hefty at times. So, Hurricane 22 is perfect for shorter runs.
This sneaker's overall design is sporty and appealing to boot. The upper consists of a soft material that is also quite supportive. It looks gorgeous and feels plush on your feet.
---
Nike Zoom Pegasus Turbo 2 – Best Versatility
Like the prior Pegasus Turbo, the new Nike Zoom Pegasus Turbo 2 features the ZoomX midsole. Through this, it delivers the maximum energy return in Nike's lot.
Another similar feature is the tiny waffle-like lumps and indents on the rubber outsole. Other than delivering grip, these lumps also help in shock absorption on various surfaces. The outsole is perfect for track workouts, racing, and most daily runs.
The upper of the Pegasus Turbo 2, however, is different from that of its predecessor. The mesh upper is much lighter and thinner as well. It also boasts a modest design, excluding the Flywire racing stripes and shoelace eyes. Instead, it uses standard laces looping through reinforced fabric eyelets.
The Pegasus Turbo 2 feature a stylish design. It appears sleek and checks the boxes of any typical trendy sneaker. Even more amazing, this trainer feels as incredible as it looks and doesn't demand breaking in.
It hugs your foot snugly and also offers enough wiggle room for your toes. More importantly, the Turbo 2 is more breathable than most counterparts, including the prior Pegasus Turbo.
---
Hoka One One Bondi 7 – Best Cushioning
Anytime the term cushioning comes up, I think of the Hoka
One One Bondi 7. This running shoe boasts maximum padding and should be a long-distance trainer. Even more amazing, it still rides like an everyday trainer.
In comparison to most other trainers, the Bondi 7 is more comfortable. All thanks to its plush cushioning. Even so, the padding may be too much for some as there isn't much road feel when running in the Bondi 7's.
The trainer's mesh upper offers a lot of support.
However, unlike other entrants, it's not the best at keeping your feet fresh and cool. The cushioned sole, though, is the actual winning feature. It is highly responsive and soft, allowing you to run for longer with less strain or pain.
With each step providing impressive rebound, you'll like how your feet feel while running. And, if you are recovering from an IT band or hip injury, you'll feel much better in this trainer. The Hoka One One Bondi 7 is, without a doubt, one of the best running shoes for hip pain, courtesy of such qualities.
The Bondi 7 is a striking shoe that is likely to turn heads. It has a broad yet slender body. The cushioning makes the shoe generally thick, but it's still not much heavy on your feet. There is a slight weight gain, though, in comparison to prior models like the Bondi 6.
---
Buying Guide
Discovering the best running shoes for hip pain can transform the quality of life. They are lightweight, well-cushioned, have good shock absorption, and will conform to your natural gait. They may decrease your risk of developing repetitive strain injuries.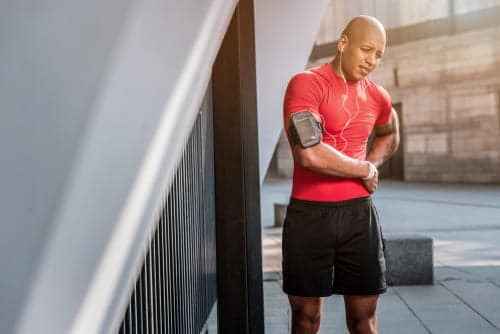 Support and Comfort
Best running shoes for pain are designed to give your feet the support they need to be comfortable without causing further injury. They are built with features such as extra cushioning, stability, and support that will help to reduce or eliminate pain.
The best running shoes for hip pain provide good support on your heel, mid foot, and toes without altering your foot position too much.
Get the Best Material
Some shoes for bursitis feature materials that help to reduce the shock of running on difficult surfaces.
Many running shoe models will offer adjustable features like ankle support.
Frequently Asked Questions
What shoes should I wear with hip pain?
You will need a pair that has a wide toe box, excellent cushioning, and has a good heel-to-toe drop.
If you have pain in your hips, avoid shoes with a lot of cushioning in the rearfoot area as this will put more pressure on your hips and worsen your pain.
What are the best running shoes for hip pain?
Best running shoes for hip pain are the ones that provide adequate support and cushioning to help relieve the discomfort. A good pair should reduce or eliminate your hip pain.
Can I run with hip bursitis?
It depends on several factors including the type of hip pain you have (epicondylitis vs. tendinopathy), your body's stage of healing (acute vs. chronic), and how much pain you're currently in (mild vs. moderate).
For some, running is a great way to keep fit, but for others, it can cause increased pain and irritation.
Can running shoes cause hip pain?
Yes. Bad choices of running shoes can cause hip pain. Runners pick up a shoe for its looks and not about its features. This is one of the main reasons why runners get injured a lot.
Conclusion
Hip pain can be catastrophic to your career if you do not manage it early. However, you need not allow it to kill your running career.
Using the best running shoes for hip pain will greatly help you if you are suffering from hip pain. Ensure the pair of shoes have good arch support and are good in shock absorbing. Support and stability are other critical features you need to consider.
In this article, we have reviewed the best shoes for you. get for yourself any of the shoes we have reviewed above. My recommendation: