Being a runner, I feel that running is one of the weight-bearing forms of exercise so it results in a high risk for injuries. Also, it is a repetitive process that makes regular wear and tear of muscles and bones.
Since knee pains and injuries are quite common and nearly 50% of the runners suffer from running injuries. Here, I am going to explain the 6 knee injuries that you may experience while running.
Read more about Best Running Shoes for Knee Pain.
6 Common Reasons Responsible for Knee Pain and How to Treat Them
1. Knee Bursitis
If I explain in simple words, it is irritation or inflammation in a small fluid-filled sac known as bursae. This bursa is precisely located near the knee joint.
Additionally, there is a common type of knee bursitis that directly affects the internal area of your knee right near the hamstring or prepatellar bursitis. This type is called Pes Anserine Bursitis which affects the kneecap and is quite common in runners.
Cause
You will feel the pain below the knee joint or on the kneecap towards the interior part. Knee Bursitis is generally caused when any of the bursae in your knee region inflames because of repeated strain.
Further, this problem is prevailing when you as a runner want to challenge yourself and end up increasing your speed or mileage suddenly. Sometimes this over-expectation results in such knee pains.
Treatment
To get fast relief from this unbearable pain, you can use Ice packs, take a rest and medication can get you through. However, if your knee is swollen, it is better not to run for a few days or so.
If the pain is aggravated, you may consider physical therapy or surgery if your surgeon suggests removing the bursa. In many cases, the bursa gets infected and results in fever which may later put you on antibiotics. I would suggest you consult your doctor.
2. Patellar Tendinitis
The next knee injury is Patellar tendinitis which is also known as jumper's knee. This is painful below the knee in the patellar tendon that joins the kneecap and your shin. This particular tendon is the aid that permits you to completely extend your knee.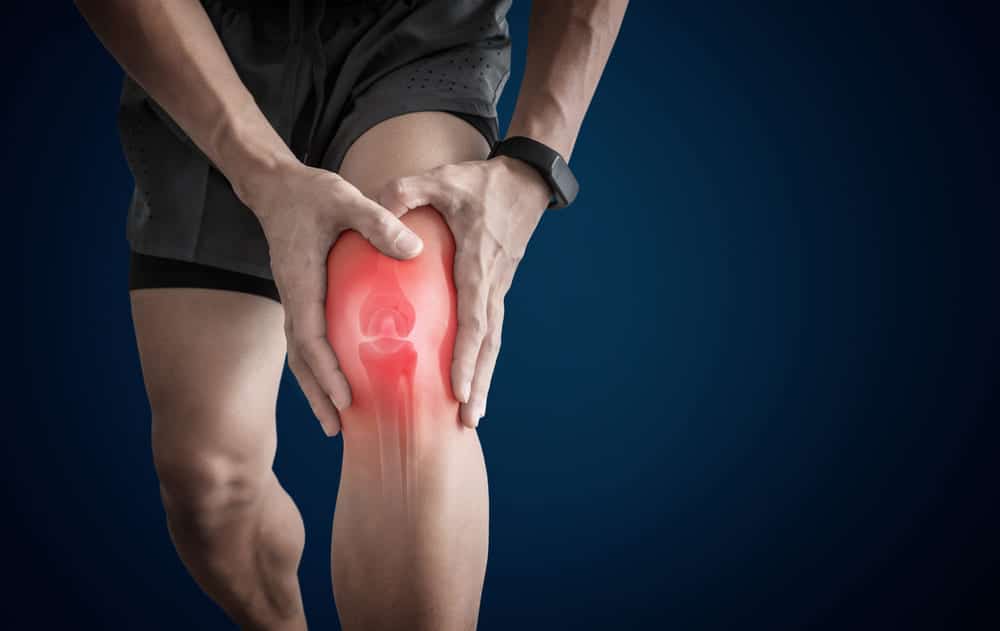 Cause
The major cause of this jumper's knee is a sudden increase in running distance and overuse of the knee. This puts additional strain on your patellar tendon and results in tiny tears in which you experience inflammation and excessive pain. Also, if you have stiff hamstrings that strain your patellar tendon.
Treatment
The best treatment is to ice the affected region, take a rest and stretch your thigh muscles. To heal it, strengthening exercises are stimulating for tissue healing. You can get a patella brace to minimize the load on your tendon.
3. Runner's Knee
Patellofemoral pain syndrome which is also known as runner's knee manifests pain around the kneecap or patella. It activates when you bend your knees for a long time.
Cause
While running, your femur, tibia, and kneecap are in motion that puts significant weight on your kneecap. Since this heavy load is directly on the kneecap, the tissues become inflamed.
Also, this inflammation in the kneecap occurs due to tight muscles or structural issues or even because of poor running techniques.
Treatment
It is better if you stop running for a week or so. You can apply cold packs and even refer your doctor to get a pain reliever until you are ready to run again without any pain. Also, to prevent a runner's knee, you can work on strengthening your hips, ankles, feet, and knees.
4. Meniscus Tear
This happens in the cartilage that is between your thigh bone and shinbone. There are two menisci in each of your knees. One is inside and the other one is outside of your knee. If your meniscus is torn then it may cause inflammation and severe pain around your knees. It may make it difficult to fully extend your joint.
Cause
It happens due to repetitive activities of menisci such as twisting and more often when you stop with a jerk and swiftly change directions while you run.
Treatment
Avoid running till your injury heals, again cold packs are effective and even you can consult your doctor for some medication that can save you from symptoms if the tear doesn't repair itself. It is better if you can make sure that there is no need for surgery.
5. Iliotibial (IT) Band Syndrome
It is common knee pain among long-distance runners. The iliotibial band is the layer of connective tissue that extends from the hip to past the knee. Thus in this injury, this band is greatly affected and you may suffer pain outside of your knee.
Cause
It occurs because of the tightness and overuse of this band. You may experience stiffness due to frequent forward and backward movements that result in friction on the point where the IT band meets your knee. This can produce pain and inflammation.
Treatment
Firstly, avoid running then try to strengthen your hips and core areas. You may use ice outside of your knee. Still, if the pain is there consult a specialist before it becomes chronic.
6. Shin Splints
This pain is prevalent on the front of your leg just below the knee area. It is also known as shin splints. This damage can result in sudden sharp and severe pain that may immediately stop your running.
Cause
The runners often experience a dull pain in the shin but they continue their running. This results in damage to that particular area.
Treatment
It is recommended to ice pack that area regularly for the first few days. Wrap the ice in a soft cloth. Consult the doctor if you see any swelling or severe pain.
Check Article about Best Running Shoes for Shin Splints.
Before You Go…
Since knee pains are quite common among runners, no one should ignore them for any reason. Common injuries can be treated with ice packs and rest with mild medication. However, if the pain sustains, you should always consult your doctor.