Brook Ghost and Brooks Adrenaline are running shoe brands trusted and preferred by sprinters to deliver the highest energy and comfort in different contending platforms.
Whether it is for training or use on the track, an athlete will need the right shoe that offers the right comfort and stability while allowing the athlete to stay responsive for a faster toe-off.
Direct Comparison
Breaking it Down
Whether you are looking for a shoe for training or the actual action on the running field, you need a better and a right shoe. Let us compare the two Brooks shoe brand so that you will be able to determine the right shoe for the proper purpose.
To enable us to have a detailed comparison, we base our evaluation on the following factors
Use
Outsole
Midsole
Comfort
Weight
Breathability
Use
Sprinters widely use Brook's brands for various purposes. You will find shoes meant for long-distance and marathon, while others will only be appropriate for short distances.
However, the choice of the shoes will largely depend on the intended use by the athlete. Some will use the shoes for workouts, while other shoes will enable them to cover more considerable distances, and others will have a shoe that allows them to sprint at high speeds.
Brooks Ghost 13
If you are looking for a shoe that will enable you to enjoy your easy paced and daily workouts, then consider Brook Ghost 13. This neutral shoe is lightweight, well-cushioned and efficient to handle speed runs and races for you.
Moreover, you can also use this Brook running shoe for half marathon and total marathon races. Although, it may let you down because that is not its specialty.
The neutral runner shoe has a segmented Crash Pad and shock absorbers, which offers you smooth heel-to-toe transition.
Brooks Adrenaline GTS 21
For more considerable strides and high speed running, Brooks Adrenaline GTS 21 is your sure-fire. You can use this shoe for easy paced daily training. Brooks Adrenaline GTS 21 is dependable for road runners when you participate in half to the full marathon.
The flattening of the insole and the heel-lock lacing makes the shoe extremely comfortable and appropriate for flat feet.
Winner
When it comes to usability of the shoe, consider Brooks Adrenaline GTS 21
Outsole
The outsole of a running shoe is crucial in enhancing comfort.
Brooks Ghost 13
Brooks Ghost 13 features a blown rubber outsole. The outsole is soft, spongy and relatively thicker. It also features three wide flex grooves that cover its entire bottom to enhance flexibility. The outsole of this neutral running shoe is also quite grippy even on wet roads.
Brooks Adrenaline GTS 21
The outsole is a thick layer of high abrasion rubber. This enhances its durability, and the shoe can last well past 1000km.
The outsole has blown rubber, which enhances the grip, as well as flex grooves for extra flexibility.
Winner
When it comes to outsole, the Brooks Ghost 13 carries the day.
Midsole
The midsole is critical, especially if you ae looking for a trail running shoe and a stability running shoe. With a shoe that has a good cushion, you can run a long distance comfortably.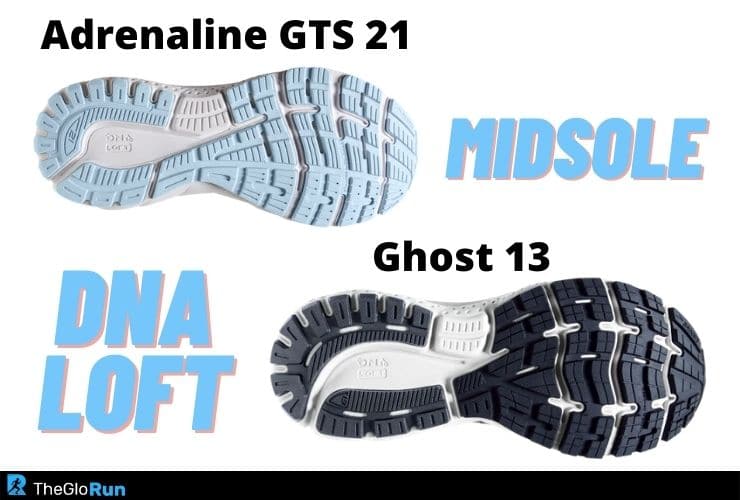 Brooks Ghost 13
This shoe has a dual foam setup of DNA Loft material on its side. It also has a full-length BioMogo DNA loft material on the medial side.
These two foams have similar density and offer you a very balanced smooth ride.
Brooks Adrenaline GTS 21
It is  an improvement of the Brooks Adrenaline GTS 20. Along the length of the midsole, it features the DNA Loft foam. On the inside, it has maintained the firmer BioMoGo foam. This provides an extra cushioning, and ensures the sole does not twist.
Winner
For midsole, the Brooks Adrenaline GTS 21 is the winner
Comfort
An appropriate running shoe ensures the most critical benefit to the athlete. A well-fitting and comfortable shoe that cushions your foot and reduces shock absorption. It also prevents any damage that might occur to your toes, ankles and heels.
Therefore, investing in the right and quality running shoe does your workouts and running more comfortable, safer and presenting a pleasant experience.
A comfortable shoe should hold your foot firmly, be of the right size, not too tight, and allow your foot to breathe.
Brooks Ghost 13
The Brooks Ghost 13 has an engineered upper mesh material covering the whole shoe, thus minimizing the hot environment and mitigating any irritation that might arise.
Moreover, Brooks Ghost 13 mesh material is softer and stretches easily to accommodate any shape and size of your foot. As such, these shoes are ideal for plantar fasciitis. They are also good high arch shoes whose toe box is neither big nor too small. It's ideal for both narrow feet and wide feet.
The secure heel cup locks your foot in place to avoid any slippage while wearing the shoe. Besides, the perforations ensure more comfort by allowing any excess heat and moisture that you might feel during training.
Brooks Adrenaline GTS 21
The Brooks Adrenaline GTS 21 has DNA loft cushioning material that spreads from the forefoot of the shoe to the heel part of the foot for a smooth switch.
Moreover, for the shoe's comfortable feel and breathability, the upper part of the shoe is covered in an engineered mesh material 3D Fit Print.
The ankle collar at the heel part of the shoe ensures it fits well, and there is no slip issue when wearing the Brooks Adrenaline GTS 21. The flexible cozy upper part of the shoe makes it more comfortable to wear because the stretchy laces ensure adjustable lockdown of your foot
Winner
The comfortable shoe for you as an athlete, consider Brooks Ghost 13
Weight
Running shoes vary in weights depending on the size of your foot and the gender of the athlete. Therefore, not all running shoes have the same weight.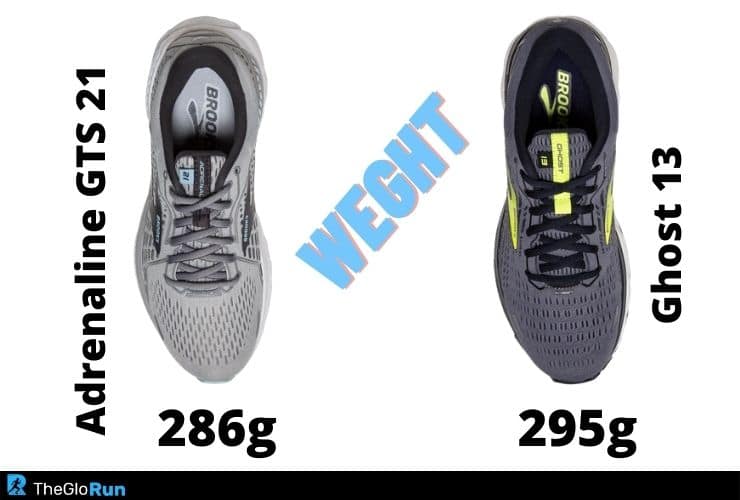 It will also depend on the cushioning material used when making the shoe. Thus, the more minimal material used, the lighter the shoe becomes.
However, whether the running shoe is light, regular or heavy will serve the purpose depending on the person using the shoes. Therefore, when used well, the result should be fulfilling.
Brooks Ghost 13
Brooks Ghost 13 weighs 286g/9.9 oz. for men and252g/8.9 oz. for women. The shoes have balanced cushioning. However, the cushioning material used is of medium amount.
The shoes have an outsole made from Thick blown carbon rubber sole in the heel zone with light and softer material. This makes it lighter and a stability shoe for your traditional runs.
Brooks Adrenaline GTS 21
Brooks Adrenaline GTS 21 weighs 295g/10.4oz for men and 258g/9.1oz for women. The shoe has balanced cushioning with more material used on it, making it weigh a bit higher.
The outer sole is of Lightweight –yet-thick blown rubber material, with deep groves.
Winner
Looking at the weight for both men and women, Brooks Ghost 13 is lighter than Brooks Adrenaline GTS 21.
Breathability
As an athlete, you need to find a running shoe that ensures your foot does not sock in sweat.
Such running shoes not only make your experience enjoyable but it ensures comfort during running and workouts. Breathable shoes for runners should have materials that improve airflow in the shoe.
The material used should also be flexible on your foot not to cause blisters or rub your foot and make you take a break from running or, worse, cause interruption in your training or athletics career.
Brooks Ghost 13
This trail shoe is made from an engineered mesh material covering the entire upper part to enhance breathability during a workout.
More the internal cushioning of the shoes makes your foot more comfortable and, at the same time, ensures your foot does not sock in sweat.
Brooks Adrenaline GTS 21
The upper section of the shoes is made from a stretchable air mesh material that covers the foot. The material ensures proper cushioning of your foot and encourages the easy flow of air inside the shoe, making it more Breathable.
The DNA BioMoGo material used on the inner part of the shoe and that of the sole ensures easy breathability of the shoe and super soft cushioning. Moreover, it ensures a heightened toe-off response during a performance on the field.
Winner
For better breathability during workouts and daily runs, Brooks Adrenaline GTS 21 is your shoe of choice.
Final Recount
Best on the use, breathability, comfort and weight of the shoes, the following would be our recount of the Brooks Ghost 13 and Brooks Adrenaline GTS 21
Brooks Ghost 13 2/5
Brooks Adrenaline GTS 21, 4/5
Final Verdict
Brooks Ghost 13 vs Brooks Adrenaline GTS 21
From this review on the Brooks Ghost 13 and Brooks Adrenaline GTS 21, we conclude that Brooks Adrenaline GTS 21 is the best shoe for your traditional runs and workouts on any surface.
It is a shoe built on tried and true technology, which prevents tightness but ensures a natural and comfortable experience for a faster stride. The inner sole has a guide rails support system that is adaptive to balance your foot during running.
Moreover, the shoe has a wider upper structure that is well balanced, flexible and the mesh-like material is double layered, making the shoe more breathable.
Therefore why don't you try this shoe for a better running experience?