I struggled for a long time with finding shoes my size due to cavus feet. I thought it was a unique condition until I discovered it affects both men and women. It also took me time to get the best running shoes for narrow feet and high arches.
It's pretty common to come across runners with wider room on both sides of their feet. Besides, according to a study done by the national shoe retailers association, more than 33% of women have cavus feet.
This is not the correct figure because many people discover high arches and narrow feet when facing foot pains while walking. Others find it challenging to find a fitting shoe or when calluses start forming on their feet.
But to avoid the discomforts and health conditions that you might face, you need to find the best running shoe for narrow feet and high arches. Therefore, consider shoes that are ¼ inch narrow than your regular shoe and ½ inch narrow than the wider shoes.
Check First the Comparison Table
I shall review for you some of the best shoes available in the market for you. But first, let me give you an in-depth understanding of these two conditions:
How Do You Measure Your Feet?
Remember, every person with high arches has different fitting shoes. Therefore, you should have a comprehensive footwear assessment to ensure you have the best running shoe that offers style and promotes the health of your foot.
Two methods apply to determine if your feet are narrow.
You can perform a simple test on your feet.
Footwear specialists and chiropodists do it.
Let us look at each method.
Doing it Yourself
It is a simple method that you apply.
You will need to have a ruler, a piece of paper, and a marker/water.
Put the paper down on a flat surface and step on it.
Step on the paper and mark your feet from behind to the front longest toe. Consider the foot that is longer when measuring the size of your feet.
Observe the markings and measure the distance between the two lines using the ruler.
If you used water, the prints left by water would only indicate the heel and the toes. However, the middle part of your feet will be missing. That will indicate that you have cavus feet.
Foot Specialist
On visiting the chiropodist, they determine if you have high arches by
Performing foot and spinal X-ray
Magnetic imaging resonance on the spine
Nerve conduction study
Electromyography
Moreover, the specialist might also do a genetic test on request to determine high arches in your children.
Narrow Feet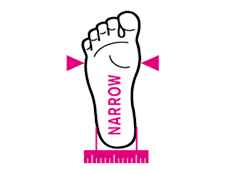 People with narrow feet always have narrower shoe fittings. But, how do you know you have narrow feet?
Look at the following to know you have narrow feet.
Have extra space on both sides of the shoes when you wear them.
Size shoes that are 3 1/6 and 3 3/8 inches in width.
Shoes fitting that are ¼ inch less than a medium shoe and ½ inch less than wider shoes.
Buying shoes indicated letter B for men and letter 2A or AA for women.
Therefore, to determine the best running shoe for your narrow feet, consider a shoe that does not allow your feet to slip around. These pauses more dangerous results than you can imagine.
Again avoid big shoes because you look clumsy, leading to tripping and falling while on the track.
Differences between wide feet and narrow feet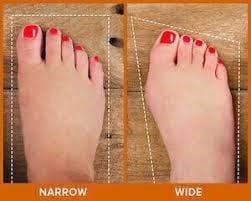 Comparison Table
| | | |
| --- | --- | --- |
| characteristics | Wide feet | Narrow feet |
| Abbreviation | Women letter D. Men letter 2E | Women letter 2A or AA Men letter B |
| Width variance | ¼ inch more on a medium shoe. ½ inch more than narrow shoe | ¼ inch less than medium shoe ½ inch less than narrow shoe |
To determine the difference between wide feet and narrow feet, consider the following:
Abbreviations
Width variations for men, the broader shoes have letter 2E indicated on them while for women letter D. similarly, men's narrow shoes have letter B indicated, while for women letter 2A or 2AA.
Size variances
The shoes are always ¼ inch more than the medium shoe and ½ inch more than the narrow shoe for wider feet. However, for the narrow fittings, the shoes usually are ¼ less than the medium fitting shoe and ½ inch less than the narrow fittings.
High Arch Feet Problems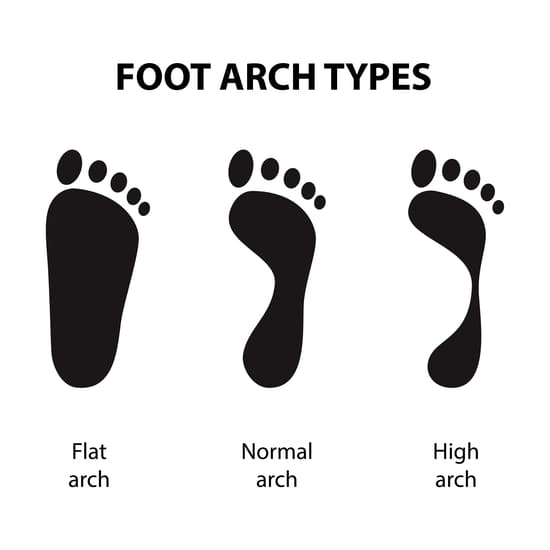 Cavus foot develops at any age. Besides, according to the WebMD reports, it is a condition inherited at birth. In fact, 68% and 20% of men inherit this condition at birth.
Moreover, the report states that 99% of women and 63% of men under 60 years inherited cavus feet from their parents.
What Causes Cavus Feet?
Different conditions can cause a person to suffer from cavus feet. However, neurological disorders below cause cavus feet.
Cerebral palsy
Spinal Bifida
Polio
Muscular dystrophy
Stroke
Spinal cord tumors
Charcot-Marie-tooth disease. It will help if you have an accurate diagnosis for cavus foot because it may be a serious indicator of a severe underlying problem.
For example, cavus feet resulting from neurological problems worsen as time passes. But, if inherited from the parent, you don't need to worry because they remain the same.
Therefore, cavus feet will cause the following problems:
Pain while walking over long distances.
Pain and discomfort while standing centered at the heel.
Formation of calluses around the heel and toes
Toe deformation/ hammertoes
Muscle weaknesses and foot drop.
Ankle sprains
These entire problems can worsen over time and lead to severe problems such as imbalance and instability while walking, forward tilt, feet dragging, and clenched feet like a fist.
Signs of a Cavus Feet
The first indicator that you have cavus feet is a high arch visible while standing on a flat surface. However, if you are not sure, the doctor runs tests to determine if you have other signs of cavus feet.
Your family history to determine any genetic indicators
The feet strength
Signs of toe deformity and any signs of weakness.
In extreme and invisible signs, an X-ray will reveal further signs.
But the good news is that, if discovered earlier, your doctor can address most of the cavus feet problems.
Other Problems Linked to High Arches
Apart from the above-indicated problems resulting from high arches, there are other ranges of problems.
However, most effects result from the impact the high arch has on your walking and standing posture.
These problems include:
Plantar Fasciitis
Inflammation of Plantar fasciitis is a condition associated with the strain put on the muscle connecting the heel and toes to supports your arches.
Plantar Fasciitis results in pain realized while walking. Likewise, you notice a sharp pain at the heel, pain along the arch, and the entire foot after sitting for a long time.
However, once you start walking, the pain begins to fade.
Metatarsalgia
The problem results in painful inflammation of the ball foot. Moreover, the pain worsens when you walk, stand and exercise.
Look for the following symptoms to determine you have Metatarsalgia.
Pain at the ball of your foot.
Numb or tingling toes.
Feeling of a pebble when you wear shoes.
It is essential to seek medical attention once you note these signs because the pain spreads to other parts of the body.
Claw Toes
This condition caused by high arch results in your tiny toes of the feet start deforming and folds like a fist. Therefore, claw toes have the following signs;
Small toes buckling unusually
Downward curling
Painful calluses on the ball of your foot
Corns formed at the top of your feet as a result of friction from your shoes.
Claw toes make your shoe feel tighter, cause more pain and affect your gait.
Foot and Ankle Instability
According to the American College of Foot and ankle surgeons, hammertoe is a condition indicated by either one or both heels tilting towards the center of your body.
This problem is synonymous with high arches causing them to have foot instability, ankle strain, and painful ball of the foot while walking.
Hammertoe
It occurs when the toes on your foot start to bend in the joints' middle and fold like a hammer.
Hammertoe is a severe problem that people with high arches face. It affects the toes' flexibility, more pain in the toes and feet.
Moreover, the foot becomes rigid that you find it difficult and uncomfortable while wearing shoes. In some cases, people with high arch undergo surgery to solve the problem.
Tackling High Arches Problem at Home
To solve problems that result from high arches while at home, consider the following:
Consider buying orthotic devices to help lessen the pain by cushioning and providing stability when you wear with your shoes.
Consider buying shoe pads made from silicon, felt, and form to help spread pressure and relieve pain when you wear with your shoes.
Consider special shoes meant for people with high arches. These shoes come with special features to accommodate and support your feet.
Icing reduces inflammations and relieves pain.
Consider pain-relieving drugs such as acetaminophen and no steroid anti-inflammatory drugs.
Medical Solution for High Arch Problems
Most doctors recommend orthotic devices or orthotic shoes to support the ankle by ensuring your body weight spreads evenly to your foot.
Moreover, orthotic shoes ensure there is increased surface area around the heel to help absorb the weight.
However, in extreme pain and problems, surgery has been found to solve the problem entirely.
Review of Best Running Shoes for Narrow Feet and High Arches
New Balance 1080 V11 – Best Cushioning
The New Balance 1080 is a gem in the world of max-cushioned running shoes. Being a premium flagship of New Balance, it boasts the best and latest technology available.
Like the last v10, this shoe features a Fresh Foam X midsole. But it feels somewhat softer than ever before. Through this, the 1080v11 achieves a bouncy energy return and superior cushioning.
The laser engravings on the midsole form a honeycomb design. This design helps soften and compress your landing, especially on heel strikes.
Below the midsole, the 1080v11 features an impressive outsole. It uses blown rubber, for the most part, making it highly durable. At the same time, the material enables the shoe to achieve superior grip.
Moreover, the material features flex grooves at strategic positions. Other than allowing your toes to flex during toe-off, the grooves also enhance the sole's flexibility.
The upper comes with a redesign on the Ultra Heel counter. Besides a slight toning down, the flare isn't too evident. Additionally, the material is more pliable and softer, giving the shoe a more comfortable fit.
The upper also displays excellent knitting. It's thinner and stretchy, achieving good conformity. For that reason, the 1080v11cuts it among the best running shoes for narrow feet and high arches.
This trainer's toe box has plenty of room. As such, it is ideal for runners with high-volume feet that require extra toe box space.  On the toe box are numerous porous holes. These facilitate airflow for better breathability hence a new ride.
---
ASICS Gel-Nimbus 23 – Best Stability
The ASICS Gel Nimbus 23 is a reliable trainer for long runs and everyday mileages. It doesn't display much difference from the previous Nimbus 22. However, it doesn't include the wide gap around the arch area present in the prior model.
It then includes Flytefoam in the midsole. Directly underfoot is a spongy layer that gets firmer as you close in towards the outsole. As such, it feels more lively and less dense than most rival models.
The midsole features a dual foam setup. So, besides the Flytefoam is another EVA-TPU blend, the Flytefoam Propel present in the rearfoot. Since both foams have similar densities, the shoe's ride feels very uniform and smooth to boot.
The trainer is also highly responsive with decent energy return. It is an excellent pick for recovery runs and hence not very lightweight.
The ASICS Gel Nimbus 23 is more of a neutral running shoe. Even so, its stability is pretty notable. Thanks to the midsole, which creates a broad base by flaring outwards.
Further, the Nimbus 23 uses AHAR rubber on most parts of the rearfoot and forefoot. On the heel's tip, it uses AHAR+ instead. With such materials, expect the trainer to last long.
To enhance stability further, this trainer employs ASICS TRUSSTIC technology. You can find this feature as a thermoplastic material present under the arch.
The shoe also incorporates an engineered mesh upper. It wraps around your foot, delivering a snug fit. Other than that, it also ensures breathability keeping your feet fresh at all times.
Moreover, the tongue attaches tightly to the upper. It stays intact while on the go to avoid rubbing against your foot's top area.
---
Brooks Ghost 13 – Best Foot Support
If an all-around running shoe is what you want, the Ghost 13 from Brooks fits the bill. It is a neutral everyday shoe with smooth and stable ride transitions.
It features a soft engineered mesh upper which Brooks refers to as Air Mesh. After a few tweaks, the mesh is now more breathable than prior versions.
The shoe's midsole is a dual foam setup. It includes BioMogo on the medial side and DNA Loft on the lateral.
Both foams boast similar densities. And for that reason, the shoe's ride is very stable and balanced. With a decent medium-soft ride, the Ghost 13 is a fantastic versatile trainer.
The Ghost 13 is all about comfort. It may not have the best cushioning, but its plush feel is notable. It also includes extra DNA Loft cushioning running from the forefoot to the heel.
Other than a smoother heel-to-toe transition, it also delivers a cushier ride. It absorbs shock from heel strikes quite well, thanks to the extra foam in its heel.
The shoe's outsole uses two kinds of rubbers. On the forefoot is the softer blown rubber, whereas the tough-wearing rubber forms the heel.
The Ghost 13 then comes with three broad flex grooves. By spanning the shoe's width beneath the forefoot, they enhance the trainer's flexibility.
You'll also enjoy the roomy toe box of the shoe. This space delivers enough space for your feet to splay. Also, around the toe area is an internal toe stiffener for support and structure.
---
Brooks Catamount – Best for Speed Runs
The Brooks Catamount is a trail running shoe that brags top-tier performance. It blends Brook's best technologies with a practical yet simple design.
The trainer delivers plenty of protection for moderate and easy trails. It is also lightweight, thanks to the Nitrogen present in the DNA Flash midsole.
It then pairs a flexible forefoot with a stiffer midfoot. The result is a smooth running experience, and therefore, it suits runners who like speedy runs.
The Catamount is highly responsive around bends and corners. You'll keep pacing up forward without having to reduce your speed.
The Brooks Catamount does have a decent toe box. Your toes will thus have some room to expand and breathe. At the same time, the shoe doesn't feel too spacious like models with a wide toe box.
The shoe then has minimal laces over a thin tongue. Alongside a dense mesh upper and thin overlays, the Catamount secures your foot for a snug fit.
The mesh upper makes the trainer very comfortable. Its tongue and heel collar have moderate padding for extra comfort. And the heel counter is firm and flexible as well.
It features a hard EVA rock plate alongside a 3.55 lug outsole. Through these, the Catamount provides you with a sense of confidence.
It also uses TrailTack sticky rubber, which features a Ballistic Rock Shield of rigid ESS EVA. The 3.55 lugs don't suit plodding through mud. Instead, their design is best for speed running on flat trails.
---
Brooks Glycerin 19 – Best Responsiveness
Next, we have the Brooks Glycerin 19. This trainer is a neutral shoe with a design perfect for easy paces.
It does feature a notable 3D Fit Print upper. It's not only stretchy but super snug as well. As for the feel, it feels soft and also boasts decent breathability. Your feet will therefore remain fresh, comfy, and cool during your run.
Like the exterior, the Glycerin 19's interior is plush as well. The upper kind of hugs your foot, ensuring a comfortable fit. Besides, the plush interior also enables easy access to the shoe.
This Brooks trainer includes more DNA Loft foam in the midsole. Thanks to this feature, the Glycerin 19 is more responsive and plusher with every step you take.
The shoe's outsole comprises soft blown rubber, as evident in most Brooks' shoes. The purpose of the soft rubber is to enhance the ground feel and soften landings. However, it may wear off quicker than the norm.
The Glycerin 19's outsole differs from that of the 18. The new model has its long rubber piece on the medial side running from the rearfoot to the midfoot.
The long rubber piece helps smoothen ride transitions. And with the midfoot having less flex, it also enhances the midfoot stability.
The trainer's ride is smooth. The reason being, the midsole and outsole setup has a single density.
---
Salomon XA Wild GTX – Best Foot Protection
The Salomon XA Wild GTX is quite outstanding. According to Salomon, the shoe makes an ideal companion for the wilds.
So, if you intend to run in a wasteland setting, the XA Wild GTX trainer is the real deal. You would therefore expect this trainer to be highly protective and comfortable. And fortunately, it is nothing different.
The XA Wild GTX comes with a sleek yet robust impression. Looking at its design, this trainer is also highly versatile.
The GTX includes a toe cap. Through this, it delivers solid protection from rock contact and other rough terrains.
It then features an Energy Cell midsole. Besides lightweight shock absorption, it also ensures notable energy return. So even in rough terrain, you'll still enjoy smooth rides.
About the shoe's comfort, it includes a molded EVA insole. This insole offers extra cushioning, allowing you to wear this running shoe comfortably over long distances.
Its GORE-TEX lining works alongside the Rugged mesh upper. Together they enhance the shoe's breathability.
The upper also boasts quick lace closure. The trainer secures your foot, keeping it from slipping out during runs. It also has SensiFit, which provides a comfy, smooth fit with minimal pressure points.
The GTX comprises a Contragrip MA outsole. Its design offers excellent grip for rocky and wet trails.
---
New Balance 880 V11 – Best Fit
The New Balance 880 line is highly dependable and versatile and the 880v11 is no different.
The trainer is true-to-size. You can customize the lock-down exactly how you like it.
It comes with a toe bumper. By giving the shoe structure and height, the shoe's fit won't be an issue.
The heel counter also brags a snug fit, thanks to the rigid plastic in the heel. It isn't too stiff but stiff enough to help secure your foot in place. Regardless of how much mileage you cover, your foot can't slide out of the shoe.
As for the midsole, it comprises the Fresh Foam X material. This foam is not only comfortable but soft as well.
Besides the protective cushioning, the foam also delivers a snappy energy return. The shoe hence delivers a smoother ride that is reliable for daily workout runs.
It then features a double-engineered Jacquard mesh upper. Like the midsole, it is soft and practical in giving the 880v11 excellent structure.
Even more incredible, the mesh upper is highly breathable. It keeps your feet fresh at all times, even during long runs.
The trainer then incorporates a blown rubber outsole. As such, the 880v11 achieves top-end durability. You'll also enjoy easy cornering as the outsole has a sticky grip.
Along the outsole are flex grooves that deliver decent flexibility. With such flex, they ensure a fluid heel-to-toe transition.
Looking at its features, the 880v11 qualifies among the best running shoes for narrow feet and high arches.
---
Buying Guide
To get the best shoes for narrow feet and high arches, consider the following factors:
Comfort
The inner sole position of cushioning is critical. The running shoes you buy should help you eliminate as much pain as possible.
As such, buy shoes that have high arch support or have a great cushioning with removable insole. A removable insole allows you to use your own custom inset.
Fit
Consider a running shoes that is true to size. Some brands are known for making snug-fit shoes.
A shoe that has a thicker midsole and a synthetic sole fits differently from a flat shoe that has a thinner midsole.
As such, the purpose and type of shoes should be a critical consideration. Read customer reviews to help you make an informed decision before finally settling on which shoe to buy.
Outsole
Outsoles come in different types from different brands. They range from blown rubber, carbon rubber, continental rubber and many more.
A good outsole will help, especially in shock absorption and better grip. The shoes I have reviewed above have great sole that you can trust, especially if you suffer from narrow feet and high arches.
Stability
Buy a shoe that is stable and secure fit. Whether you have high arches or not, wobbly gaits, slipping in the shoe and lack of support can lead to other problems. It can also be a recipe for other serious injuries.
Go for shoes that have:
A stabilizing heel
A flexible but firm sole
A snug but not tight upper
Frequently Asked Questions
What Size Should I Buy if I Have Narrow Feet?
The best size for narrow feet is "AA" width size for women. For men, the best size is "B".
The shoe should have less space in the upper for a glove-like fit.
Why is it Difficult to Find Shoes with Narrow Width?
Very few people need shoes with narrow widths. As such, the market is smaller and hence you might find it difficult to get such shoes.
Are Some Brands Known for Being More Narrow than Others?
Yes. Brands such as Asics and Nike are best known for narrow shoes. They could be among those that you can look out for.
What Shoe Are Good for High Arches?
They should have good cushioning and quite supportive. This supports your feet from the force of impact upon landing.
Conclusion
The best running shoes for narrow fit and high arches will help you in solving discomforts while on track.
The shoes we have reviewed above are among the best you will find in the market. However, still do your due diligence and read customer reviews before deciding on which to buy.
Again, the problem of high arches can be corrected to allow you resume your normal track activities. However, do it professionally and consider comprehensive feet wear assessment to help you determine which shoes are the best fit for you.
Moreover, invest in shoes that have the right features to help you align your foot, shape, structure, and health. It goes a long way in offering corrective measures that are supportive and accommodate your health needs.