This Asics Kayano 22 Review will provide all the information you need.
Asics is not new in making remarkable running shoes for different runners' needs. So, if what you need are consistently stable running shoes, the Asics Gel Kayano 22 would be the right shoes to buy.
With this version, Asics put great emphasis on cushioning and comfort. As such, they bolster the shoes' ride quality and efficiency in softening impacts.
Have you been a fan of the Gel-Kayano line? If yes, you'll notice some familiar features present in their previous versions. This shoes' fit is very responsive – it fits true to size. Through enhanced technology, this Gel 22 is a little bit lighter. Other than that, its upper features less leather fabric.
When it comes to balance, these Kayanos are impeccable. Besides, they also display top-notch reliability, unlike most running shoes. You'll also enjoy a wide range of flexibility as you run in this footwear.
[wp-review id="1362″]
The Asics Gel Kayano 22 is more of an enhanced version of the Kayano 21. The Kayano 22 includes improved features from its predecessor, Kayano 21, alongside a few extra ones.
Over the years, the Kayano line has stability as its selling point. Just like Kayano 21 and other previous versions, the Kayano 22 shoe is highly stable. At the same time, it is more responsive to boot.
Asics Gel Kayano 22: The perfect fit, flexibility and comfort
This shoe includes a seamless upper with the new FluidFit technology. Alongside a superior external Heel Clutching system, it achieves a snug fit. Hence, like a glove, it stays firm and intact throughout the run.
As an added advantage, it also delivers a comfortable environment for the foot. By doing so, it reduces friction and irritation.
The shoe's PHF (Personal Heel Fit) features a foam construction. Through this, it fits true to size while enhancing the shoe's comfort. Unlike traditional running shoes, the Kayano 22 has decent flexibility. As such, it has numerous good reviews from customers.
Outstandingly, this shoe integrates new DuoMax technologies. Its Soft Top DuoMax not only promotes gait efficiency but better comfort as well. On the other hand, Dynamic DuoMax helps decrease over-pronation. Thanks to its multi-rigid shape.
Asics Gel Kayano 22: The perfect shoe for regular runners
Are you a regular runner? Or rather, fond of long runs? If yes, the Asics Gel Kayano 22 is the right shoe for you as it comes with a unique guidance line technology. The guidance line helps promote forefoot flexion resulting to reduced soreness and increased comfort.
We can also look at this running shoe as an all-around choice for any athlete. The reason being, it boasts an excellent balance in quality, stability, style, size and overall comfort. Even though it's primarily a running shoe, it is also good for other sporting activities.
What's more, the Asics Gel Kayano 22 is available in two models. One version for men and the other for women. Each of them has something to deliver to their respective gender. For instance, the foam cushioning in each shoe is gender-specific, and so are the color choices.
Detailed Overview of the Features for Asics Kayano 22 Review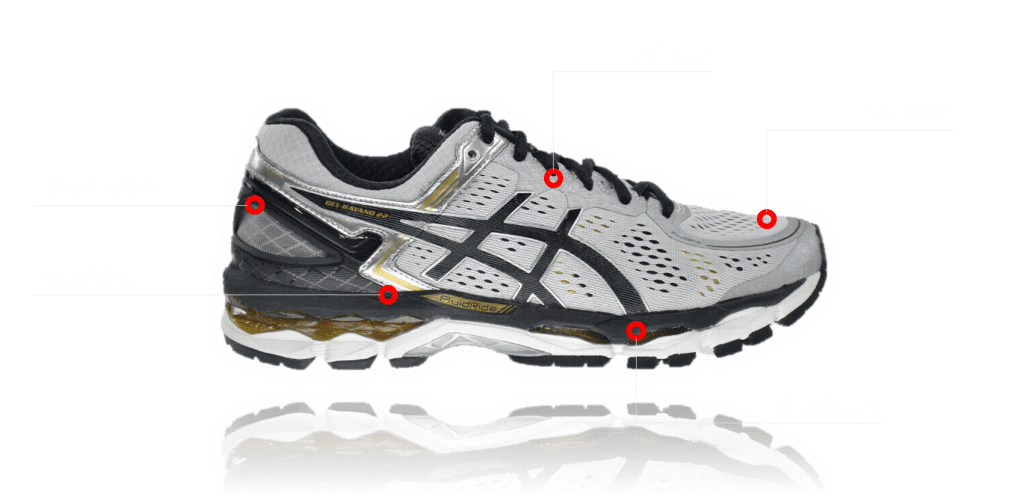 Outsole
This pair of shoes borrows its outsole from the prior counterparts. With that in mind, it maintains a 10 mm heel to toe drop with an adequate toe box.
The outsole still features Asics High Abrasion Rubber at the backk. Moreover, the shoe's forefoot also includes a blown rubber DuraSponge and a rear foot crash pad. All these features come in handy to offer a smooth and soft cushioning.
The sole then includes a Dynamic DuoMax Support System. Through this, it enhances its stability by controlling over-pronation.
Like previous versions, it also includes the Guidance Trusstic system. This means it efficiently achieves a new balance between stability and cushioning.
Midsole
Like the outsole, there isn't much new on the Kayano 22 midsole. The midsole also features FluidRide technology. Hence, it delivers secure and responsive cushioning underfoot.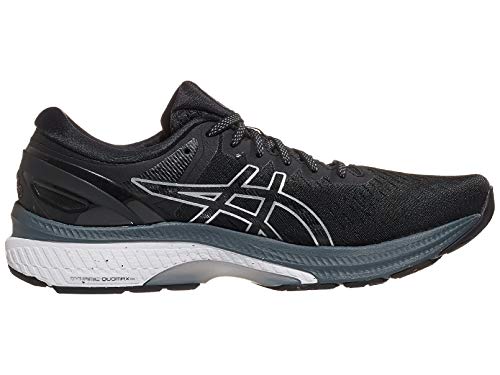 The forefoot also has ample gel cushioning. As a result, it assures a smooth ride and softer ground impact as well. Any runner with turf toe injuries will like the orthotic benefits from this midsole.
Upper
The upper unit of this Asics Gel is different from previous versions. It boasts a seamless mesh construction and a striking design.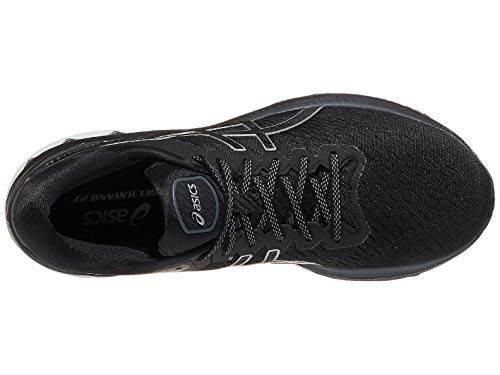 The update displays a FluidFit mesh all through. It also includes a stretch mesh layer. Besides enhancing breathability, the seamless upper makes the shoe lighter and more comfortable than prior models.
The mesh overlays then cover the entire foot. Through this, they not only add to comfort but flexibility and fit as well.
Heel Counter
The heel counter of this shoe isn't that different from other versions. It, however, has a new shoe design to enhance fit and arch support.
Further, it appears to extend forward and up for additional comfort and stability. It may be hard for most runners to notice the change. The good thing is that this feature makes the shoe lock in place and feel more comfortable.
Breathability
As we have already seen, this product features a seamless mesh upper. This design allows for more air movement. As a result, the shoe lets your feet breathe.
What's more, the shoe's upper material is waterproof to boot. It, therefore, delivers protection to your feet in wet or rainy conditions.
Support
The Asics Gel Kayano 22 running shoe is highly supportive. To achieve this, it includes lateral support alongside memory foam-lined heel. These features can be helpful for runners who over-pronate.
The shoe then includes a dual-density midsole. Together with its great upper design, it assures optimal foot support.
More importantly, the gel in the shoe's sole is also very soft. Nonetheless, it offers decent support to help with mild over-pronation.
Equally important, this shoe boasts a comfortable heel-to-toe height. Other than offering stability on landing, it also helps you propel forward.
Durability
The Gel Kayano 22 features a specific design for regular long runs. With that in mind, the shoe's durability has to be nothing less exceptional. To achieve this, it incorporates top-quality mesh materials.
Its rearfoot then features top-notch carbon rubber.On its essential areas, the shoe uses the AHAR rubber. With this, it effectively lessens excessive wear of the shoe.
Alternatives to the Asics Gel Kayano 22
[amazon table="1381″]
What is wrong with the Asics Gel Kayano 22
There is no perfect shoe for running and the Asics Gel Kayano 22 is no exception. Nevertheless, there is not much to say in terms of its drawbacks. It is a premium running shoe option and therefore checks most boxes for any runner.

Even though the shoe is true to size to many customers, a small group of people feel that it's too narrow. We found many complaints from customers claiming that the toe box is too tight. A narrow shoe and tight toe box is uncomfortable for a long run.

Another group of customers feel that the upper unit of this shoe is thin and cheap. Lastly, we found the shoe a bit costly, unlike other stability counterparts in the market.
Frequently Asked Questions
Is the Asics Gel Kayano 22 the best running shoes?
It's hard to define the best running shoe since different runners have different needs. However, we can confidently say that Kayano 22 is one of the best brands in the market. It boasts an excellent blend of dependable stability. Alongside its plush cushioning, it is an ideal option for people suffering from mild to severe over-pronation.
Moreover, it's not only reliable but has a snug fit as well. As seen above, this shoe features new technologies. With these, it focuses on delivering a comfortable ride for all runners.
Is the Asics Gel Kayano 22 a stability shoe?
The Kayano line is renowned for focusing on stable high-end shoes. Luckily enough, their 22 version is no different.
The shoe incorporates innovative features that make it one of the best stability shoes there is. For that reason, any runner with mild to severe over-pronation will find this pair helpful.
What is the difference between Asics Gel Kayano 25 and 26?
There isn't much to differentiate these two running shoes. But the most significant difference between the two has to do with the gel amount in the heel.
The Kayano 25 features a considerable amount of heel gel. The Kayano 26, on the other hand, has a more significant share extending almost to the midfoot.
How long does the Asics Kayano 22 last?
Like every other product, these Asics Gel will wear out eventually. But, how quickly that happens depends on several factors such as body weight, mileage, etc.
Asics advises runners to consider replacing their running shoes after covering at least 750 km.
Is the Asics Gel Kayano 22 ideal for people with flat feet?
Absolutely yes. You'll never experience any toe pains with this running shoe. Many runners with flat feet are using it without any problems.
Are there different colors for the Gel Kayano 22?
Yes, this gel shoe is available in a wide variety of colors and size. It comes in men and women versions.
Conclusion
The Kayano line is still thriving in the market even after many years of existence. Therefore, the Asics Gel Kayano 22 guarantees confidence and excellent performance.
From this review,  it's clear that the shoe's versatility and stability are hard to come by in most models. It comes with plush and softer cushioning that makes it very comfortable for frequent long runs. For that reason, it has numerous positive reviews and is a perfect premium daily trainer for all kinds of runners.
From the review, we see the incredible benefits of the Kayano 22. So, without a shadow of doubt, this running shoe is a worth-it buy on first sight. We would recommend it to any first time customer.