Asics is a well-known designer and marketer of true to size shoes and other sports equipment. These include jackets, pants, socks, etc. In recent years, the company ranks as one of the best performing brands in the sports industry.
As other shoes, Asics Gel Contend 3 is great. It boasts a substantial amount of cushioning in the sole for the heel and upper mesh units. For that reason, it stands out as a good product for the price and design.
It's also a bit rigid. Thus, unlike others, it doesn't alter its shape when running. Without a doubt, its components are something any runner would like.
However, they may require extra effort to fit runners who have too narrow or too wide feet. So, I would advise trying the Asics Gel Contend 3 shoes first before buying. In this review, we shall tell you all you need to know about this shoe.
[wp-review id="1174″]
Asics Gel Contend 3 Review
The Asics Gel Contend 3 for men is a running shoe that accomplishes what you'd need it to. In other words, it really delivers ideal performance at a reasonable price point. This shoe is not your ordinary product for use, it incorporates extra features.
Impressively, this shoe boasts of good, 5 star rating gel cushioning system inserts for both heel and midsole. By these, the Gel Contend 3 assures a solid base hence a smooth and comfortable ride while in use. Other than comfort, this running shoe provides a really exceptional sole stability.
The shoe's mesh upper overlays style are also worth mentioning. The reason being, when in use, the foam helps to provide good breathability keeping your feet cool and fresh at all times.
Asics Gel Contend 3: An Ideal Running Shoe for Beginners
The Asics Gel Contend 3 is really a good running shoe for the price. More importantly, its design aims to provide both running stability and comfort. With that approach, this shoe is an ideal pick for an entry-level athlete. Reviews show that experienced runners found the Gel Contend 3 a bit lacking in size and basic in features.
The shoe integrates Gel Technology that was found to offer a substantial amount of comfort. This shoe will thus, without a doubt, be thrilling to neutral runners. Its style, design and features will give satisfaction to cross-trainers, walkers, and runners familiar with light mileages.
Overview of the Features of the Asics Gel Contend 3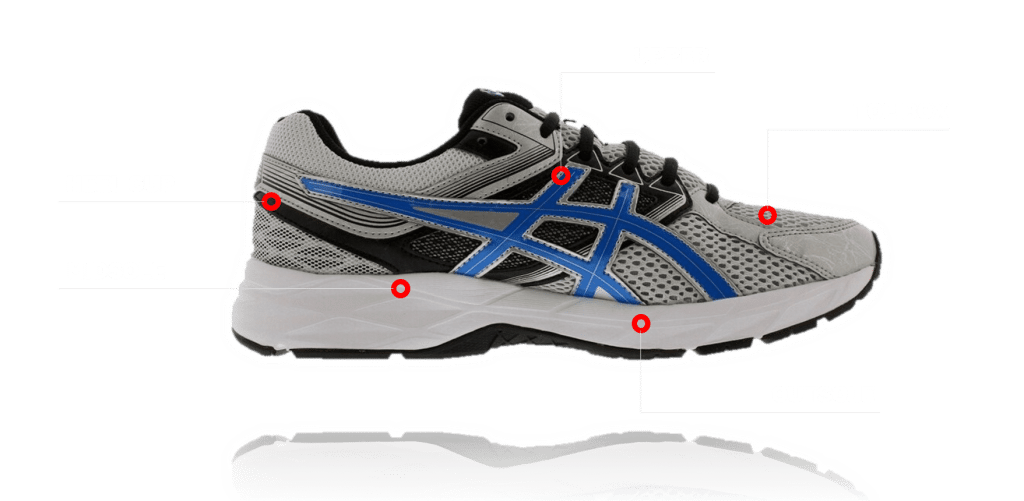 Outsole
The outsole of the Gel Contend 3 is pretty much basic. The sole features hardened rubber material. Same as every other top-performing shoe, this sole includes several elements that provide natural transitions. At the same time, its forefoot comes with flex grooves, which give you an enhanced range of motion.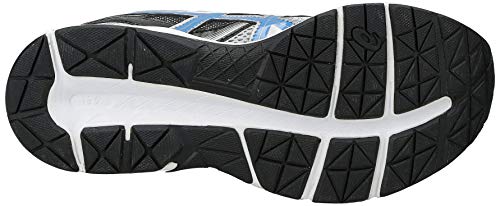 Moreover, the shoe's outsole is also textured to give adequate grip. You can therefore enjoy running on any surface without fretting about falling. The shoe then packs a lot of science and research inside. As a result, it cuts down any stress from your joints and heel as you run.
On top of that, this sole also features Flex Grooves. With a strategic position in the forefoot area, they help enhance your flexibility.
Midsole
The Gel Contend 3 shoe's midsole, similar to the outsole, is also rather basic. The main element of this sole is a single layer of standard EVA foam. The Eva foam material is good for a smooth ride.
What's more, the midsole integrates a cushioning system for the heel, with Gel technology. With every strike, it has an effective shock absorption from the impact. The gel cushioning's heel location and design is also strategic. In other terms, it makes the transition between landing and taking off seamless.
Upper
Away from the midsole, the new Asics Gel Contend 3 boasts a remarkably breathable mesh upper unit. Don't fret about your feet getting too hot as you run in warm environments. The shoe has a mesh upper that is very instrumental in allowing air circulation.

Also, inside the Gel Contend 3 is an anti-microbial microfiber liner. By this, the shoe efficiently wicks away moisture keeping you dry and cool. It then incorporates synthetic upper overlays through which the shoes obtain their structure.
Further, the sock liner is not just removable but contoured as well. Besides delivering support, it also adds to the overall shoe's comfort. There are reflective portions on the upper to boot. Hence, you remain visible even when running in low light conditions.
Weight
One issue with the Gel Contend 3 has to do with the weight. The shoes are a bit heavy. They, therefore, are the best for use for mileage runners because of the weight.
The men version weighs a solid 298 grams and 241 grams for the women counterpart. In a neutral lineup, these are not really the lightest.
Comfort
From a neutral approach, the Asics Gel Contend 3 shoes are very comfortable. Besides, you'd expect nothing less from running shoes that boast decent cushioning for the heel.
After looking at many user reviews, you can tell that comfort is the shoes selling point. The gel cushioning on each shoe's heel pad delivers enough energy return. Consequently, you can enjoy a bouncy and comfortable run.
Luckily enough, the shoe's sock liner is removable. Hence, you can insert a medical orthotic if need be.
Durability and Protection
The Asics Gel Contend 3 features robust materials. At the same time, the shoe also manages to provide enough flexibility and support. According to many reviewers, the EVA foam in the midsole of this shoe is also very durable.
It includes ample padding underfoot. Thus, it lessens any shock resulting from landing impacts. In the same way, the gel cushioning offers protection in the rearfoot.
Terrain
If you run on road-type surfaces, the Asics Gel Contend 3 will perform best. Even when it gets too hot, these shoes offer decent breathability and support.
Traction and Stability
The Asics Gel Contend 3's outsole features hardened rubber. Therefore, you can still run in them even in hard rains. With a crisscross pattern, this shoe delivers an enhanced level of traction.
This shoe has a sock-like fit. For this reason, the Gel Contend 3 assures remarkable stability. Its flexible midsole is also practical in offering another modicum of support.
However, over time, the Asics Gel Contend lose their stability. Be sure to get a new pair of running shoes at the right time.
Alternatives to the Asics Gel Contend 3
[amazon table="1312″]
What is wrong with the Asics Gel Contend 3
In all honesty, the Asics Gel Contend 3 shoe is nothing less remarkable. Nevertheless, just like any other shoe, it has its share of drawbacks.

Reviews show that you may experience a bit of a squeaky insole, something most runners would dislike. Then again, its overlays are somewhat stiff and sometimes noticeable as well. Unlike similar shoes, the Gel Contend 3 is also pretty much heavier, somewhat stiffer and its size is not the best for runners with big or small toes.

Also many customers complain that toe box is small. This downside has earned this shoe 4 stars rating instead of 5 stars rating.

Lastly, reviews show that you may also come across fitness issues with his shoe. For people whose feet are either too narrow or too wide, this shoe may not fit well.
Frequently Asked Questions
What is the best Asics Gel shoe for walking?
There are several ideal Asics Gel shoes for walking. However, I would recommend the Asics Gel Quickwalk 3.
It has a basic style with sporty looks. Besides, it also includes comfort features to enable you to play sports or walk with ease.
Are Asics Gel Contend 4 good for walking?
Well, yes. The Gel Contend 4 is an entry-level pick for low mileage runs and walks.
Are Asics Gel Contend 5 good for running?
The Gel Contend 5 doesn't hit the mark like other entry-level models out there. I believe it's a good pick for standing or just walking around.
Are Asics Gel Contend 6 good for walking?
Yes. This shoe boasts of excellent comfort and lasting support. Hence, it's ideal for not just running but walking and casual wear as well.
Is the Asics Gel Contend 3 a good trail shoe?
The Gel Contend 3 is best for road running. However, if you run on smooth trails, it may work.
How do the Asics Gel Contend 3 lace-up?
These running shoes come with fairly standard nylon laces. Not only are the laces strong, but they are long enough to help achieve a snug fit.
Does the surface I run on affect how the Asics Gel Contend 3 break down?
I believe road running can wear your running shoes quicker than trail running. Nevertheless, the bigger factor has to do with how you run. A 200-pound trail runner is more likely to wear out his running shoes before a 100-pound competent road runner.
Take a close look at your running shoes if you think they are ready for retirement. If your foot slides off the midsole, maybe due to a stretched upper, consider buying a new pair.
Final Wrap Up
Do you want an ideal true to size shoe for a friendly price? Get yourself a pair of the Asics Gel Contend 3 shoes. They don't have the newest technology and are not the lightest ride. But, with these babies, you get a well-tested heritage, durable, and reliable shoe.
These shoes' overall comfort and support is great. Other than decent cushioning, they also integrate targeted padding. Alongside the breathable mesh overlays, they deliver the utmost foot comfort. Their one major downside is the small toe box.
Even so, the Gel Contend 3 shoes are not one for experienced runners. They make an excellent option for entry-level runners who run light mileages.